European bed wetters seen knocking knees and crying foul that Jews are fighting back against their sworn enemy the Islamonazis in Gazilia. KGS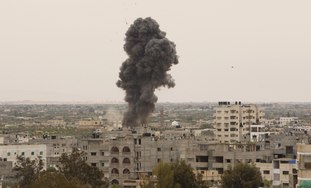 IAF strikes rocket launchers in Gaza after rocket attacks
By YAAKOV KATZ AND REUTERS
03/24/2011 09:05
Israeli airstrikes hit rocket-launching terrorists, smuggling tunnels along Gaza-Egypt border as well as a Hamas training camp in central Gaza; action follows rocket attacks against Beersheba and Ashkelon; no reports of injured in attack.
The IAF bombed terrorists that were attempting to shoot rockets into Israel on Thursday morning.
IDF aircraft struck four targets in the Gaza Strip in the early hours on Thursday, Hamas said, a day after Palestinians fired about a dozen rockets and mortars across the border, striking deep into Israel. There were no reports of injuries in the attacks.
[…]
The IDF confirmed that several strikes were carried out in Gaza in response to earlier rocket attacks and that direct hits on multiple targets were recorded.
On Wednesday, Israel vowed to retaliate for rocket attacks against Beersheba and Ashkelon as Hamas evacuated most of its manned positions throughout the Gaza Strip in anticipation of IDF air strikes.
At 5:30 Wednesday morning the first Grad-model Katyusha rocket slammed into Beersheba for the first time in almost a month, lightly wounding one person.
Several hours later, another rocket hit the Negev city.
Yet another rocket landed south of Ashkelon on Wednesday, a day after a rocket fell near Ashdod.
Authorities announced that schools would be closed in Beersheba, Ashdod and Ashkelon on Thursday as a result of the security situation.
Also Wednesday, seven mortar shells containing white phosphorous hit the Eshkol region, followed shortly after by three more near a kibbutz in the Sha'ar Hanegev region. The IAF later destroyed the launcher that was used to fire the rocket into Ashdod.
The Al-Quds Brigades of Islamic Jihad claimed responsibility for the missile fire, which came after Israel killed four terror operatives in a missile strike on Tuesday night. The four were behind the firing of two Katyusha rockets into Beersheba in late February, the IDF said.
Fearing a further escalation, the IDF Home Front Command ordered residents in Beersheba, Ashkelon and Ashdod to stay close to their homes and near bomb shelters, out of concern that additional rockets will be fired in the coming days from the Gaza Strip.
Obama teeth gnashing exercise:
NOTE: Pic courtesy of Barry Rubin