Vlad sent me this, so the Tundra Tabloids is shamelessly cribbing the entire post, it's a situation that the TT has never heard of before. Thanks to ol'Vladdy boy for the easy steal. KGS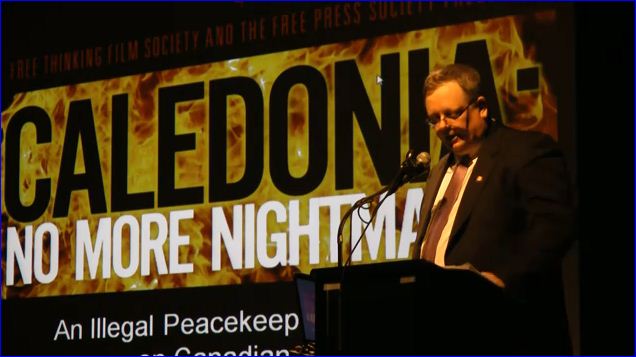 Last night I had the opportunity to interview one of the principle people, as well as attend a lecture and set of videos by many of the residents of the besieged town of Caledonia where I learned a great many disturbing things, just two of which are,
1. The government seems to treat what should be a law enforcement issue, as a "peacekeeping" one. This has disturbing implications.
2. Out of over 3000 bands of aboriginal people, all of whom live in peace with the general population of Canada and with varying degrees of success ,only the 'Six Nations people' or Mohawk have allied themselves with international terrorists and use their special status to run organized crime with impunity from the police and state, even, on occasion, with their assistance.
Over the course of the coming week, I will publish as much as I can of the video I shot along with their various materials. For the moment, here is a short segment of last night's 'Free Thinking Film Society' presentation with, among many other people, Gary McHale.
For people interested in more information on the Canadian-Aboriginal connection with international organized crime and Islamic terror, please have a look at the following links:
http://www.caledoniawakeupcall.com/homeland/hezbollah.html
http://www.caledoniawakeupcall.com/homeland/index.html
http://voiceofcanada.wordpress.com/2011/02/14/kudos-to-london-free-press-for-worthingtons-truth-and-consequences-feature-page-re-caledonia-islamic-appeasement/
http://voiceofcanada.wordpress.com/2011/03/21/caledonia-players-the-mohawk-warriors/
The speaker in this video is:
Mark Vandermaas (featured speaker)
Caledonia Victims Project

Mark Vandermaas is a former Canadian soldier and UN peacekeeper. After his arrest on Dec 16, 2006 with Gary McHale while attempting to raise a Canadian flag, Mark put his career as a real estate broker on hold to work as a full time 'rule of law' activist.

He was the leader of the 2007 Ipperwash Papers project, and has written more than 400 Caledonia-related articles for his blog VoiceofCanada.ca.

In 2010 Mark started the Caledonia Victims Project to begin organizing the key evidence and background information which will be needed by post-Helpless policy researchers.  He and Gary are co-founders of the HelplessByBlatchford project – a resource created to educate Canadians about the many important issues raised by the Caledonia crisis.

Mark has consistently spoken out on behalf of the unintended aboriginal victims of OPP racial policing practices as well as for non-aboriginal residents as he did at the 2010 New Directions in Aboriginal Policy forum at Mount Royal University where he presented, Listening to Victims: A Fresh Approach to Healing and Reconciliation upon which his presentation tonight is based.