Former Alaskan governor, Sarah Palin, visits with Israeli PM, Benjamin Netanyahu at private residence. The heads of the pseudo pro-Israel J-Street org seethes. KGS
NOTE: Small world, The TT knows the man standing directly behind Sarah, he's a real stand up fellow, known him for years.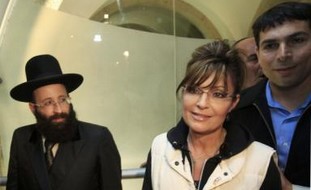 Palin promises to come back for a week
By GIL HOFFMAN
03/22/2011 02:31
J-Post: Former Republican vice presidential candidate concludes brief first visit to Israel by meeting Netanyhau and wife Sara.
Former Republican vice presidential candidate Sarah Palin and her husband Todd concluded their brief first visit to Israel on Monday by meeting Prime Minister Binyamin Netanyahu and his wife Sara at his official residence in Jerusalem.
Ahead of the meeting, Netanyahu's office checked with Palin to see whether they could expand it to a full reception for her with other politicians and aides, but she politely declined.
In an effort to keep her visit as private as possible, Palin also declined all requests for interviews and did her best to avoid the media as she toured the Mount of Olives and Christian sites in Jerusalem on Monday.
Palin was due to leave Israel early Tuesday morning.
In private conversations, she vowed to return soon – for a full week – and said she would meet with more politicians and the media then.
J Street officials, who are in Israel for a meeting of the Knesset Diaspora Affairs Committee, complained on Monday that Netanyahu had refused a request to meet with them but had chosen to meet with Palin.
The left-wing American lobby's president, Jeremy Ben-Ami, said he had wanted to meet with Netanyahu "to introduce ourselves and explain how we can work together as allies."
See J-Street seethe!
UPDATE: from The Sheik: "Why are you apologizing all the time?"
With that single sentence made to her Israeli hosts, Sarah Palin demonstrated a greater understanding of the problems confronting Israel than the collective wisdom of all the J.D.'s, Ph.D's, and Masters of International Affairs in the Obama administration combined.
The question was profound, as simple as it were, because it addressed the narrative of perpetual Palestinian victimization and grievance.