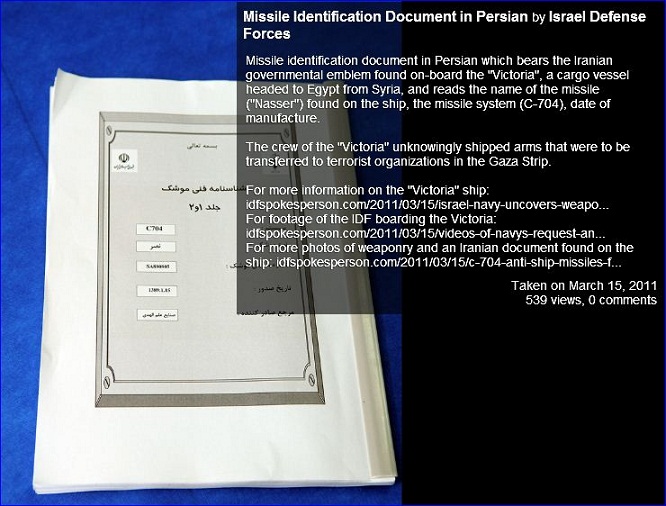 UPDATE:
Netanyahu: 'We have to confront the axis of terror'
By YAAKOV KATZ AND JPOST.COM STAFF
03/16/2011 15:02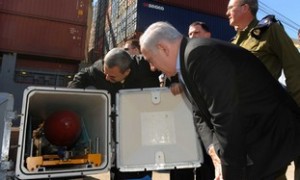 PM says seized arms ship "Victoria" justifies naval blockade on Gaza; cargo includes shells made in Israel, sold to Iran in 1970s.
Prime Minister Binyamin Netanyahu warned of an "axis of terror" in the Middle East on Wednesday after surveying the Victoria, a ship the IDF stopped from bringing weapons to Hamas.
"Every day there are efforts by Iran, Syria and terrorist organizations to smuggle weapons to Hezbollah and Hamas," Netanyahu said. "There is an axis of terror in our region, and we have to confront it if we want to prevent terrorism and create a chance for peace."
Netanyahu mentioned international protests against Israel's naval blockade of Gaza, and said "our answer is here today at the Ashdodport," while pointing at the mortar shells and anti-ship missiles laid out on the docks.
"The weaponry discovered onboard the Victoria prove why Israel needed to prevent ships from sailing freely into the Gaza Strip," he said.
Reporters and officials were presented with the ship's contents at the Ashdod Port. The IDF discovered three containers filled with weaponry, including six anti-ship missiles made in Iran with Chinese components and two radar control systems, manufactured by Kelvin Hughes, a British company. In addition, the ship contained 2,500 mortar shells, which were sold to Iran by the Israeli company Soltan in the 1970s, when Israel and Iran still had relations.
Iran put stickers that said "Made in Britain" on all of the crates, in an attempt to deceive whoever would open them.
"We prevented something dangerous," Defense Minister Ehud Barak said. "This is weaponry that could have impacted our navy ships and gas fields."