Ok, it's really his private 'petting ranch', stocked with women from all over the world, probably the ones who accepted his invitation to convert to Islam. KGS
H/T: Esther, Islam in Europe.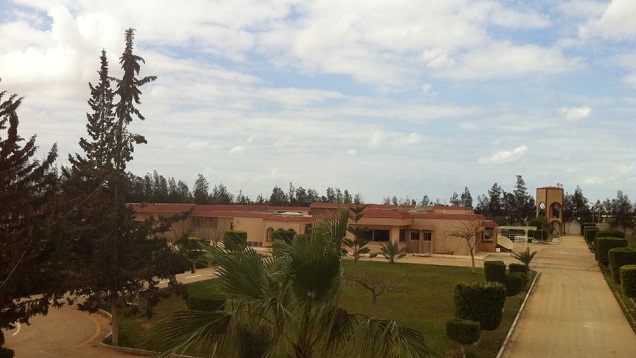 Here is Kadhafis secret whorehouse
Revealed by the rebels.
Benghazi (Dagbladet / Expressen): In el-Hawari outside the eastern, rebel-controlled town of Benghazi, behind a five-meter high wall, surrounded by palm trees and lawns, is Muammar Kadhafis private brothel. Here he loved to spend the nights with lusty prostitutes.
– His Private pimp, Belaid Cambal, fixed women from Libya, Morocco and Lebanon, said a defector from Kadhafis guard in Benghazi. Mansour El Warfalli was to storm and vandalizes brothel. – "We found a lot of Viagra, " said Mansour, and laughed.
A "ranch"
Officially a brothel ranch owned by Kadhafis nearest man, Abo Bakr Younes Jaber. But Jaber is not from Benghazi.
– Each time Kadhafi arrived here with his personal bodyguards were dozens of cars with armed guards on the weekend the way down to the highway. Everyone knew that he came here with a large female company and spent one or two nights at a time, "said el-Warfalli.
In addition to its own guards, Kadhafi also used by guards military base Fadil Omar stay in Benghazi. One of those who served at the base, but dropped out, is a 35-year-old father of two.
– Loved Women
He fears for his own safety if he is there with a full name.
– Everyone knows that he loves women. His bodyguards are women and he trusts them more than their own children. But it was a small circle who knew of the details about the prostitute who was transported to a brothel in el-Hawari every time he visited the city, "said 35-year-old.
Now El Warfalli and other vengeful stormed the brothel, brought all possible valuables and destroyed what was possible not to take with you. Beds, ceiling lights and gold toilet fixtures are broken