You're going to see much, much more of this kind of thing. The Islamonazis are going to try and intimidate the Copts and ramp up the confrontations until they feel themselves subdued. You know, all Koran-like. KGS
H/T: TINSC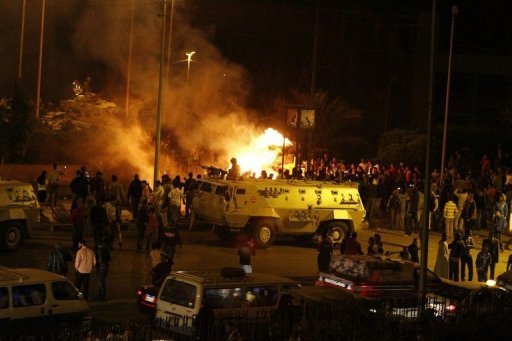 "We have at the clinic the bodies of six Copts, all of them shot," local priest Samann Ibrahim told AFP

Eleven killed in Egypt Christian-Muslim violence
By al-REUTERS
03/09/2011 12:27
Violence triggered by an arson attack on a Cairo church; Coptic Christian protesters block main highways in the Egyptian capital.
CAIRO – Eleven people were killed in violence between Christians and Muslims in Cairo on Tuesday night, the state news agency reported on Wednesday.
The agency quoted a senior health ministry official as saying 110 people were wounded in the violence.
The violence was triggered by a Christian protest over an arson attack on a church in Helwan south of Cairo.
Christians protesting over the attack on the church had blocked a main highway south of Cairo and violence started after Muslims who wanted to pass through clashed with the protesters, a security source said.
Petrol bombs and rocks were thrown. At least one of the dead Christians had been struck in the back by a bullet, but it was unclear who had fired it. The army had fired into the air to disperse protesters.
Coptic Christians make up about 10 percent of Egypt's population of 80 million.
Tensions between the communities which appeared to evaporate during the mass uprising against President Hosni Mubarak have resurfaced in recent days, posing a challenge for the country's interim military rulers.