Saudi Arabia, a place where one can still visit the 7th century, and not be in a museum. KGS
THE SAUDI NOOSE
TSN: If we don't act, where's it all going to lead, plucking eyebrows, wearing of perfume?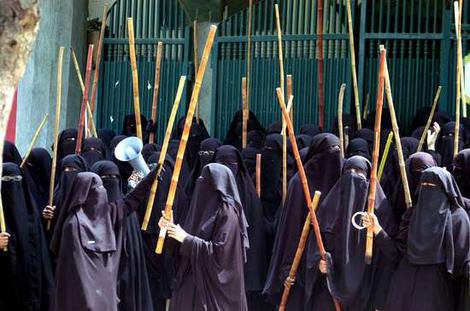 Kapos willingly lead the march (Archived photo)
Saudi in fresh crackdown on colourful female gowns
By Staff
Published Tuesday, March 08, 2011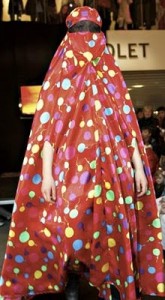 Saudi Arabia's feared Islamic police mounted a fresh campaign against clothes shops in one of the Gulf Kingdom's largest cities to stop them from selling colourful gowns to women, a newspaper reported on Tuesday.
Members of the Commission for the Promotion of Virtue and Prevention of Vice raided many shops in the western town of Taif and confiscated a large quantity of ornamented women's gowns, Sabq online Arabic language daily said.
"The Commission members made dealers write a statement pledging not to sell these gowns again…many other deals had shut their shops and fled just before the Commission inspectors raided the market."
Just before the end of 2010, a large force from the Commission stormed garments shops in the Saudi capital Riyadh and confiscated thousands of ornamented dresses and gowns, which also carry writings.