And the mind boggling aspect to this all, is that Muslim apologists and their drone supporters keep insisting that Islam is a religion of peace. KGS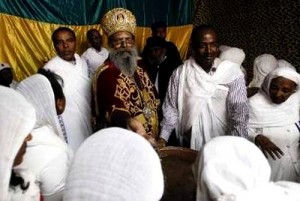 Ethiopian Muslims Burn Down Five Churches, More Attacks Feared
AINA: Washington — International Christian Concern (ICC) has learned that in the past two days, thousands of Muslims have razed five churches and the homes of two evangelists in Asendabo, Ethiopia. Christian leaders are asking for protection after the Muslim attackers continued burning churches even after the federal police were sent to the town.
The Muslims started the attacks yesterday after falsely accusing the Christians of desecrating the Qur'an. More than ten thousand Muslims shouted "Allah Akbar" (Allah is great) as they burned down five evangelical churches. The government sent the federal police force to protect the Christians after the Muslims burned down the first three churches. The Muslims overwhelmed the police force and burned down two more churches today.
Speaking with ICC, Christian leaders expressed their fear that Muslims will start killing the Christians unless the government sends more security forces to contain the Muslim attackers.
At the time of the writing of this report, none of the Muslim attackers have been arrested. The government officials detained some Christians and took them to the nearby Jimma town stating that they need to do that for their own security.
Ethiopia is a Christian majority country and was one of the first nations to accept Christianity. However, in the areas of the country where Muslims are the majority, Christians face attacks.
"We urge Ethiopian government forces to send reinforcement to protect the Christians in the city of Asendabo from the Muslim attacks. We ask Christians around the world to prevent any further attacks by calling the Ethiopian officials in their countries and asking them to protect the Christians and their property," said ICC's Regional Manager for Africa, Jonathan Racho.
H/T TROP