The was a fundamuslimist jihadi attack on US personnel, not a bus accident as the US president is managing it. KGS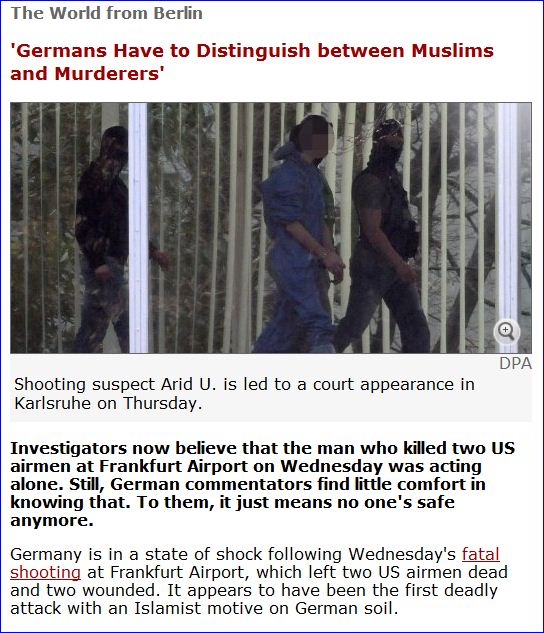 Execution-Style Killings

Griesbaum revealed that the suspect had killed his victims with eight execution-style shots to the head. Arid U. had apparently gone to the airport armed with a pistol and two knives to look for American soldiers. When he recognized a group of soldiers, he asked one of them for a cigarette and checked whether they were on their way to Afghanistan. After the airman had confirmed that they were, U. shot him in the head from behind as he turned back toward the bus.

Then, prosecutors said, U. boarded the bus and shot the 21-year-old driver dead. He then went farther into the bus and shot two other airmen, aged 25 and 21. The two men survived the attack with serious injuries, though one is still in a critical condition.

The suspect's pistol apparently jammed as he held the weapon against the head of a fifth victim and pulled the trigger. Prosecutors said it was only the gun's defect that prevented additional deaths. When the attacker tried to escape, the soldier went after him and caught him after a few meters. A number of police officers came to his assistance.
H/T #mce_temp_url#