A whack-job maybe, but what's one to think? Every time a Muslim is caught doing an act of jihad, it's always due to a mental condition. Then again. KGS
'I'm off to kill someone': Knifeman planned to kill train passenger to commit 'suicide by cop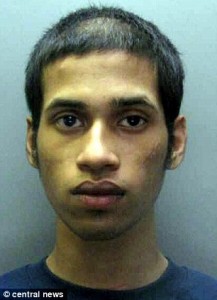 A knifeman who held more than 30 train passengers hostage in a bid to commit 'suicide by cop' has been jailed for five years.
Mohammed Hussain, 20, left a note telling his family he was off to kill someone in the hope he would be gunned down by police.
After an all-night drinking session, he grabbed a kitchen knife and boarded a Docklands Light Railway carriage where he terrorised victims, including the elderly and children.
But when brave passenger Tariq Elmenstirly wrestled him to the ground, the 23-year-old ended up 'Tasered' by police who confused him with the frenzied attacker.
During the ordeal, which lasted more than an hour, a number of desperate travellers risked their lives escaping over live rails as Hussain waved his blade and snarled: 'You're all hostages, I want police to shoot me right here.'
Jailing Hussain at Blackfriars Crown Court, Judge John Hillen gave Mr Elmenstirly an £800 bravery award.