The were immigrant Iraqis, and the fact that the news can't name them, let alone identify their ethnicity, is pathetic. You have to come to the blogs to get more of the story. The Tundra Tabloids still does not know the names of these perps, nor does anyone else. KGS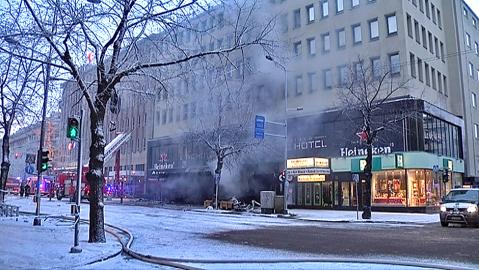 Five (muslim Iraqi) men charged over Tampere pizzeria arson
Helsingin Sanomat: Three out of five suspects deny any part in the fire that killed three people last November
Most of the suspects charged with the pizzeria arson in Tampere last November deny having taken any part in the burning down of the establishment, which was facing deep economical problems. Three people died in the blaze.
Leading District Prosecutor Jouko Nurminen filed charges against five persons on Monday. The court proceedings are to start at the Pirkanmaa District Court on March 11th.
The prosecutor regards as the main perpetrators the two brothers who were running the pizzeria on Tampere's Hämeenkatu, and two other men who according to the indictment set the blaze in the place.
The prosecutor demands that the four main perpetrators be convicted of aggravated sabotage, three counts of aggravated involuntary manslaughter, perpetrating a fraudulent insurance claim, one count of grossly negligent bodily injury, and four counts of negligent bodily injury.
The older of the two brothers who were running the pizzeria admits being guilty of charges, while the younger brother denies having participated in the crimes. Likewise, only one of the two other suspects admits having caused the fire.
The fifth suspect is a young man, whom one of the brothers asked to burn down the pizzeria. He refused to do it, but according to the prosecutor, he failed to report the planned arson to the police. The man denies being guilty of any crime.
The police also suspected six other men of failure to report an aggravated crime, as one of the two brothers said that he had offered them the job.