Whether Amr Moussa wins or not, Egypt stands to become increasingly anti-Israel and anti-US in behavior. It just depends upon your perspective concerning, long term vs. short headaches, Mohammed ElBaradei or Amr Moussa, either pick does not spell good for a civil democracy in Egypt. KGS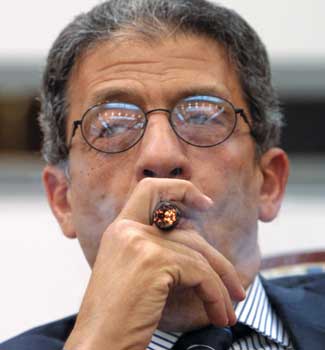 Arab League chief Moussa announces candidacy in Egypt's presidential elections
CAIRO (BNO NEWS) — Amr Moussa, the Secretary-General of the Arab League, on Sunday announced his intention to participate in the upcoming presidential elections in Egypt, state-run media reported.
The state-run Middle East News Agency (MENA) reported in a brief alert that Moussa had announced his intention to run for president, without providing more details. It had been rumored since the resignation of Egyptian President Hosni Mubarak that Moussa would run for the office of the president, but he did not confirm this until Sunday.
Egypt plunged into chaos last month when millions of people took to the streets in Cairo and other major cities to demand the resignation of President Hosni Mubarak. Some of them clashed with security forces, killing as many as 300 people and injuring thousands more. Mubarak resigned earlier this month.