It's the convergence of the hard Left that supports the eradication of the Jewish state of Israel, as they turn out in their many flavors to protest an Israeli dance and song group.

The text on the black flag reads: "BrotherHood Drecht-cities", Drechtsteden is a collections of cities ending on-Drecht. Timo says that they are clearly a Neo-Nazi group (pic taken by bij keesjemaduraatje)
According to Timo: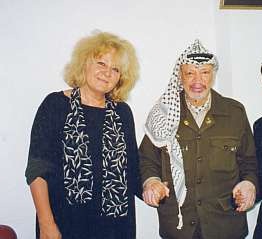 A christian group, Christians for Israel, organized three benefit concerts here in Holland with cooperation of the Israeli army band, Tzahal. Anja Meulenbelt, (pic. left with stinky Arafat) a socialist senator of the SP party, called for a counter protest, together with some pro-Palestinian groups, one of them is called Sabeel (meaning "The Way" in Arabic).
We went to the first demo to see what would happen, there was a second concert yesterday in Groningen, but not much spectacular happened there. In Dordrecht, Sabeel showed up for the protest, some time later a group of neo-Nazi's showed up as well.
In the video you can hear one group chanting : Israel Schande Schande – Bloed aan je handen,  it means : Israel Shame Shame – Blood on your hands . You obviously here two different tones : meaning both groups singing the same chant, when the neo-Nazis sing the leftists even whistle along!
NOTE: The Tundra Tabloids has been invited to many events like this in Helsinki, but since Finland's Muslim population is no where near the level in other European states, we don't have any of the freaks protesting against them. KGS
H/T and pics by Timo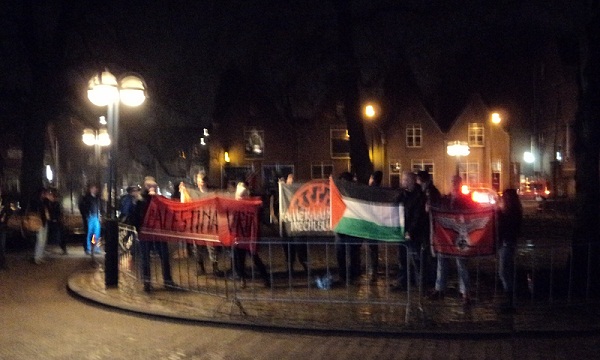 Noisy Demonstration at Kunstmin
Published Thursday, February 24, 2011 (22:26)
RTV Dordrecht
: A small group of protesters tonight a noisy demonstration was held at Theatre Kunstmin. The protest was against the action of Tzahal, a dance and music group from Israel. This group consists of conscripts. The protesters believe that the members have to answer before the International Court. The demonstration was called by the Dutch foundation, Friends of Sabeel. In Kunstmin were also some people with Israeli flags in protest against the demonstration. The Israeli Ambassador in the Netherlands in Kunstmin attended the concert.
NOTE: The righteous were present as well.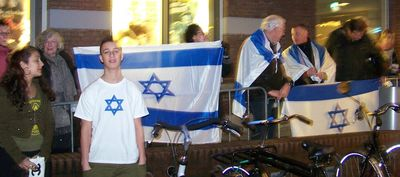 *** EDITORS NOTE***
Thanks to the detective work of a Vlad contributor, this wikipedia page was found on the symbol on the flag in the top picture. Worth having a look.