Here in Finland, women lining up to become Miss Finland have to parade themselves around in under garments, it's all a part of the Miss competition gig. Each year the contestants form a line and walk out on the cat walk in places like shopping malls all round Finland.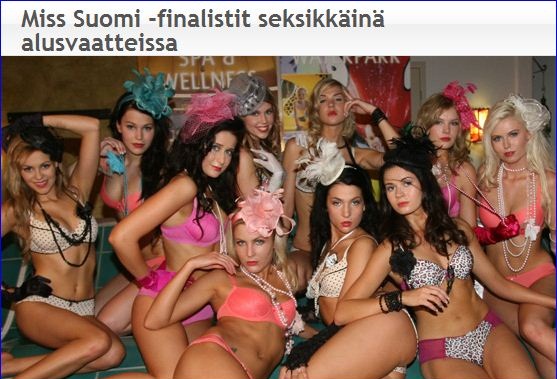 So for every Finn, it's no shock at all that girls hoping to win the crown and bragging rights for being "Miss Suomi", will not hesitate for a moment to wear underwear in public, which for the most part, resembles swim suits.
That fact however, is lost on the overwhelming majority of those living in the Middle East. The supposed front runner of this year's competition in Finland is, Anni Uusivirta, (her last name translates "Newcurrent") who has a boyfriend from Abu Dhabi-doo, Muhammad Khalid, they've been together for two years.
The Finnish model revealed to the Finnish tabloid Iltalehti (curiously not online) in an interview that her boyfriend, Mohammad, doesn't intend on showing his mother any pictures of her posing in any underwear.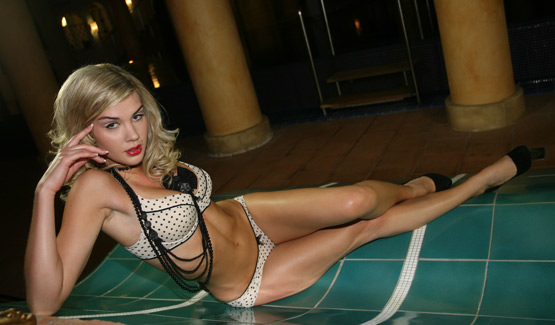 The Tundra Tabloids will help out Muhammad Khalid's mother by putting her son's Finnish girlfriend on the internet here at the TT. In the end, it might help save yet another ignorant European woman from having to go through another hellish nightmare of a marriage, when she eventually finds out that Khalid isn't the man she originally married. Here's a snippet from the Iltalehti interview (curiously not online):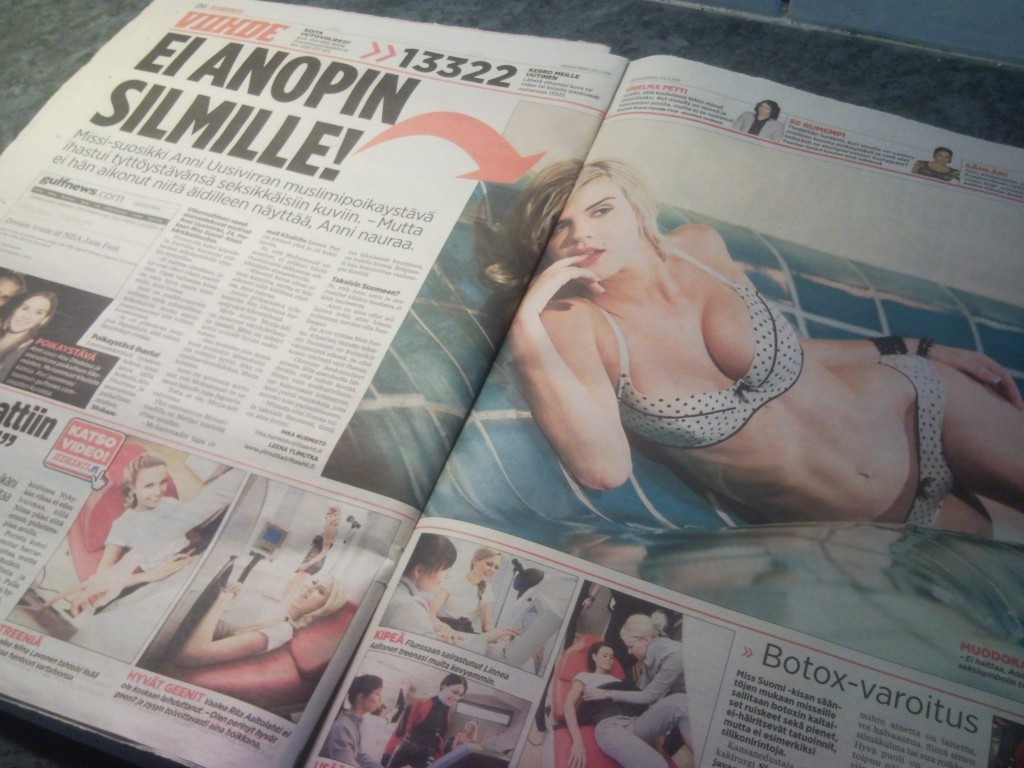 The Boyfriend was delighted
Anni, who's working as a flight attendant and  currently living in Abu Dhabi is dating a local man, Mohammad Khalid for over two years. That Mohammad is a Muslim hasn't kept him from being delighted in his beloved's sexy underwear pictures.

-He thinks that the picture are really beautiful, but he doesn't intend on showing them to his mother, Anni laughs.

Anni's boyfriend works in Abu Dhabi as a successful businessman.

Also, her mother Merja has met her potential son-in-la many times. The man has made a real good impression on the mother.

-He treats Anni very well like he treats his other relatives. He's a dream son-in-law candidate, thanks Merja.

Anni earlier told that Mohammad had even bought her a Jaguar.

-It's true, her mother Merja verifies.

One other quality that Mohammad has over the rest, is that Mohammad has the habit of paying attention to those closest to him which is really wonderful. Especially that he honors the elderly.
Now you might disagree with the TT, but this has all the signs of a slow train wreck, "beautiful western girl meets nice Muslim boy from the ME who appears as modern as it gets. Spends his wealth on her, and gets her to marry him, only to find out awhile later that her life is not her own, full of bruises and that any children she might have are to be raised as Muslims." It's a slow train wreck I tell you, just wait and see.
NOTE: Picture of the happy threesome, Muhammad, Anni and her nitwit mother Merja who's got her eye on the brass ring, not her daughter's well being.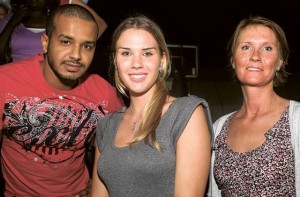 UPATE: buuri johannesbuurista writes:Well, she is not very clever as she earlier stated that: "In Muslim culture women can be real women" (MTV3 interview)