That didn't take long.
The problem with Islamic fundamentalism, are the fundamentals of Islam. The supremacist ideology that is Islam cannot contain itself, it has to lash out and prove its supposed superiority, regardless of how bad of joke it really is. Here's the Muslim Brotherhood's leader, Sheik Yusuf A-Qaradawi, in Egypt for less than a day after being in asylum abroad for years, and can't help himself but to lay into the Christians, the original Egyptians before the Mohammedans came and islamized their land. KGS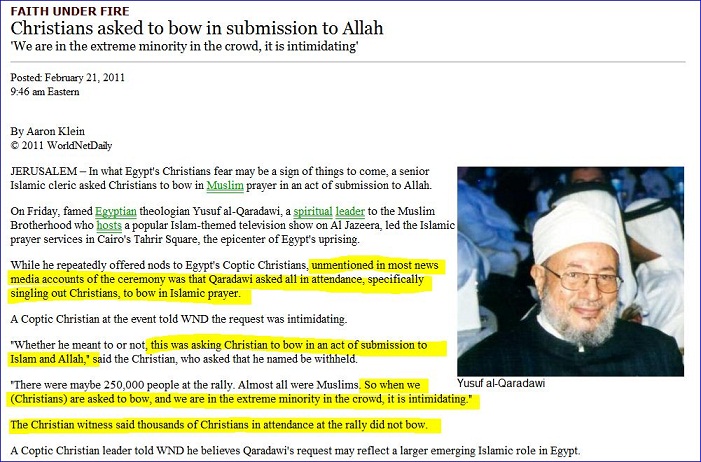 H/T: TROP
Qaradawi's speech was, in part, focused on political Islam, replete with his quoting verses of the Quran.

While he asked the entire rally to bow in Islamic prayer, he also used his speech to reassure the Christian minority of their place in Egypt, telling the crowd that "in this square sectarianism died."

He discarded the customary Islamic clerical opening of "Oh Muslims," in favor of "Oh Muslims and Copts."

He praised Muslims and Christians for standing together in Egypt's revolution and even hailed what he called the Coptic Christian "martyrs" who once fought the Romans and Byzantines.

Then he asked the Christians to bow inMuslimprayer.

"I invite you to bow down in prayer together," he said.

EgyptianChristians fear implementation of Islamic law

Qaradawi had been a vocal opponent of deposedEgyptianrule Hosni Mubarak. He has lived in exile in Qatar for decades. His return to Egypt is seen as evidence of a change in favor of theMuslimBrotherhood.