Libyan leader last seen holding an umbrella in a  pick-up that greatly resembles something out of Venezuela while desperately claiming he's still in Libya. KGS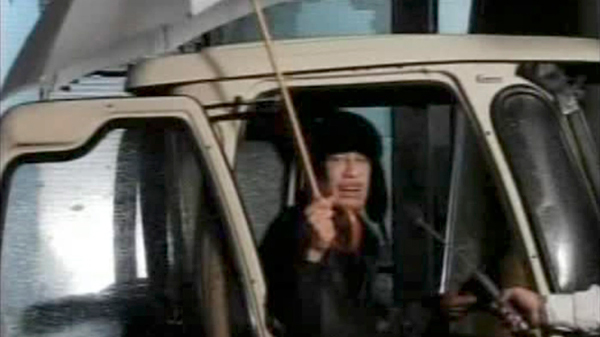 NOTE: Yep, the Tundra Tabloids sees a "final moment" happening very soon for the man with the many differently spelled name.
Scores of bodies reported on streets of Libyan capital
By ASSOCIATED PRESS
02/22/2011 13:16
JPOST: Forces loyal to Gaddafi shoot at ambulances leaving protesters bleeding, seeking treatment as many Tripoli residents remain in homes to prevent being fired upon.
Talkbacks (1)
CAIRO — The bodies of scores of protesters shot dead by security forces loyal to longtime leader Muammar Gaddafi littered the streets of a restive district in the Libyan capital on Tuesday, according to a Libyan opposition activist and a Tripoli resident.
Tripoli's inhabitants hunkered down in their homes after the killings and warnings by forces loyal to Gaddafi that anyone on the streets would be shot, Mohammed Ali of the Libyan Salvation Front and the local resident said.