Will there be a UN General Assembly condemnation of the shooting of unarmed demonstrators by Bahrain government soldiers and/or police? The Tundra Tabloids thinks not, anymore than you can expect one against the Libyan government.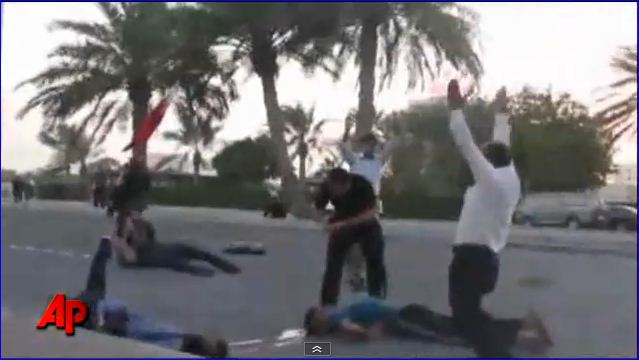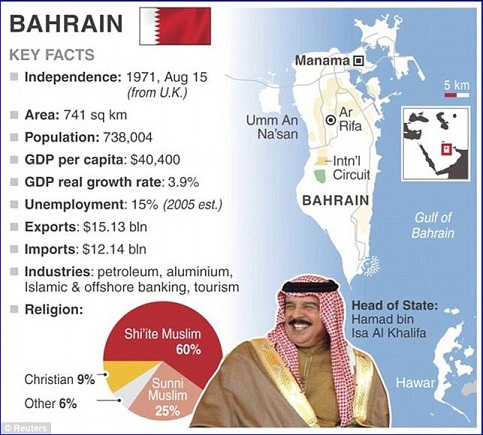 Here's the video:
Massacre in the Middle East: Horrific video captures Bahrain troops gunning down peaceful protesters in the street

By DAILY MAIL REPORTER
Last updated at 6:38 PM on 19th February 2011
Comments (132)
Add to My Stories
Up to 120 killed in three days in Libya as Gaddafi drives tough crackdown

1,000 believed injured as troops fire on demonstrators

Protesters torch government buildings and hijack radio station
Soldiers withdrawn from Bahrain streets but demos continue
Student shot dead in Yemen on tenth day of protests
Iran opposition calls for fresh rallies on Sunday
Algerian protesters surrounded by riot police
This is the horrifying moment troops open fire on innocent protesters on a day when the number killed across the Middle East reached almost 120. Dozens of demonstrators chanted as they marched towards tanks in Bahrain but they fled seconds later as the clatter of bullets ricocheted through the street. Two protesters lay motionless with blood spilling onto the road while as many as 50 others walked away wounded in the attack in the country's second city of Manama. The shocking scenes resembled dozens of similar protests in Libya, Yemen and Jordan where citizens demanded democratic reform in a 'Friday of Rage' sweeping the crisis-hit region.