Qaradawi is the Muslim Brotherhood (and Hamas) and there couldn't be a better example of Islamic supremacism and hatred than than this guy. Just like a farmer he's outstanding in his own field. KGS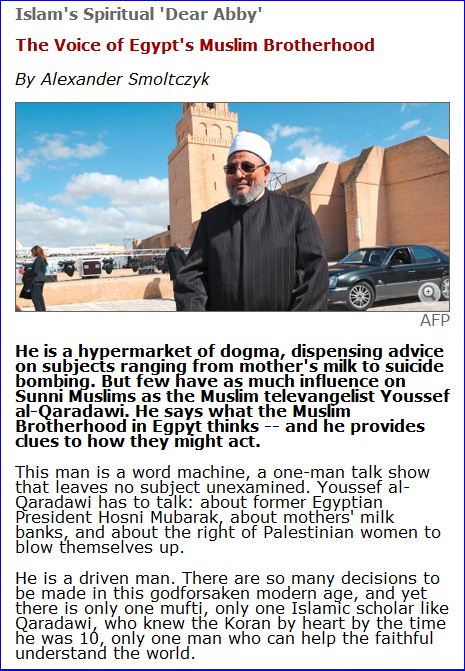 Qaradawi is the father figure of Egypt's Muslim Brotherhood, the country's best-organized opposition group. The Brotherhood is sure to play a part in deciding what path Egypt will now take.

The Islamist group asked Qaradawi to be their leader in 2002, but he turned them down. Such a position would have been too limiting. He has a different mission. He feels compelled to talk.

The Al-Jazeera television network has been broadcasting Qaradawi's program "Shariah and Life" every Sunday for the past 15 years. Some 60 million Muslims watch him as he talks imploringly about the (TT: non) genocide  in Gaza or the unique dangers of female masturbation ("the hymen is very sensitive and could tear").