Lets see how they handle things. KGS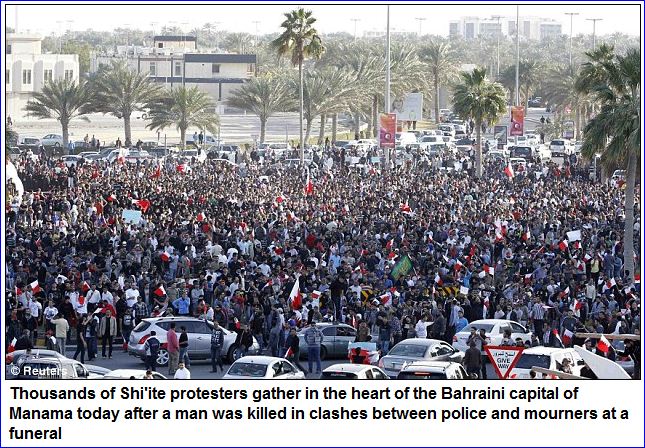 Arab crisis: Now it's Bahrain's turn as protesters pour on to the streets demanding political reform and greater freedoms
Two dead as Egypt-style rebellion escalates
King's rare TV address promises loosening of state controls
Security forces hold back but key highways are blocked

Thousands of protesters poured into a main square in Bahrain's capital today in an Egypt-style rebellion that sharply escalated pressure on authorities as the Arab push for change gripped the Gulf for the first time.
Security forces clashed with demonstrators who have been calling for political reforms and greater freedoms over two days, leading to the deaths of two protesters and the main opposition group vowing to freeze its work in parliament in protest.
In a clear sign of concern over the widening crisis, Bahrain's King Hamad bin Isa Al Khalifa made a rare national TV address, offering condolences for the deaths, pledging an investigation into the killings and promising to push ahead with reforms, which include loosening state controls on the media and internet.