What?! Fleeing the burgeoning democracy of Egypt, what gives with that? KGS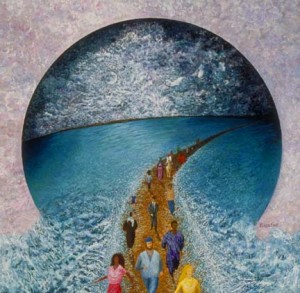 NOTE: They know all to well that the "democratic revolution" in Egypt will soon be followed by the flowing of blood as the long knives come out to devour the children of that revolution.
Italy: Egyptians reach Sicily as 'biblical exodus' continues
Rome, 15 Feb. (AKI) – A boat transporting about 50 Egyptians reached Sicily late Monday amid a torrent of illegal immigrants who have left their homes in northern Africa following popular uprisings that toppled decades-old dictatorships.
A wooden fishing boat carrying the illegal immigrants near the southern city of Ragusa was intercepted by Italian police, while almost 5,300 Tunisians have landed on the tiny island of Lampedusa since since 15 January, the day after that country's long-time president Zine al-Abidine Ben fled following weeks of protests against his rule.
No new arrivals to Lampedusa were reported late Monday as scores of Italian boats patrol the coast of the island that is closer to Tunisia than Italy.
Italian interior minister Roberto Maroni has warned of an unprecedented influx of 80,000 immigrants reaching Italian shores that represent a threat to the security of all Europe. He said the "biblical exodus" could give an opportunity for terrorist militants to infiltrate the masses of people looking for a source of income in Europe and asked the European Union for 100 million euros in aid to shore up security.
Desperate Tunisian migrants are gathering in the country's ports and are understood to be paying people smugglers up to 1,400 euros each for their passage across the Mediterranean to Italy aboard rickety boats. Those who reached Lampedusa said they they were desperate for work, and were fleeing violence and disorder. Some said they feared persecution after Ben Ali's overthrow.
H/T: The Baron