Anyone want to guess how many of his fellow Muslims and Imams in Canada are seething? KGS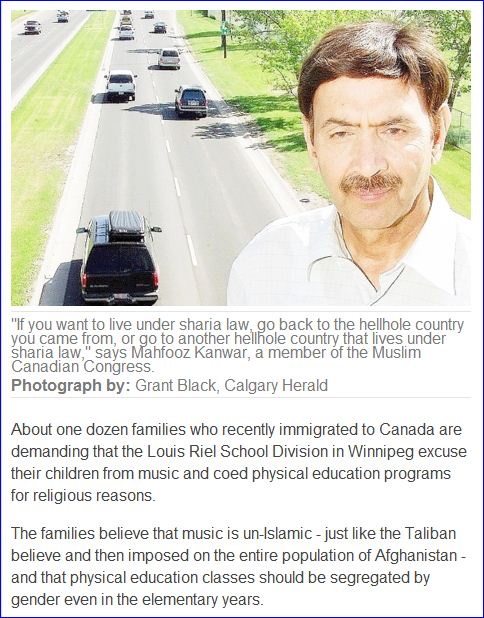 The school division is facing the music in a typically Canadian way – that is, bending itself into a trombone to try to accommodate these demands, even though in Manitoba, and indeed the rest of the country, music and phys. ed are compulsory parts of the curriculum.
Officials say they may try to have the Muslim children do a writing project on music to satisfy the curriculum's requirements. The school officials have apparently consulted the Manitoba Human Rights Commission, and they have also spoken to a member of the Islamic community suggested by those very same Muslim parents.
In any event, the school district is trying to find a way to adapt the curriculum to fit the wishes of these families, rather than these families adapting to fit into the school and Canadian culture.
Mahfooz Kanwar, a member of the Muslim Canadian Congress, says he has some better ideas.
"I'd tell them, this is Canada, and in Canada, we teach music and physical education in our schools. If you don't like it, leave. If you want to live under sharia law, go back to the hellhole country you came from or go to another hellhole country that lives under sharia law," said Kanwar, who is a professor emeritus of sociology at Mount Royal University in Calgary.
That might be putting things a little more forcefully than most of us would be comfortable with, but Kanwar says he is tired of hearing about such out-of-tune demands from newcomers to our country. "Immigrants to Canada should adjust to Canada, not the other way around," he argues.
H/T: ZIP