UPDATE: Elisabeth convicted to 120 "Day fines", equally 480 euros.
Elisabeth has been found innocent of incitement to hatred, the original charge, so the judge makes up some new charges to find her guilty of utterances against the founder of Islam, for calling him a pedophile. So all the Muslim pedophiles around the world currently living with their underage child-brides should be thanking this Austrian judge and giving high fives. An utterly contemptible verdict. KGS

Elisabeth's trial resumes today and Russia Today interviewed her yesterday and forwarded the video to Vlad just prior to it being released online on their site. This post will stay at the top today, till Elisabeth's trial ends in the afternoon. Here's the video interview:
Elisabeth and her lawyer enter the building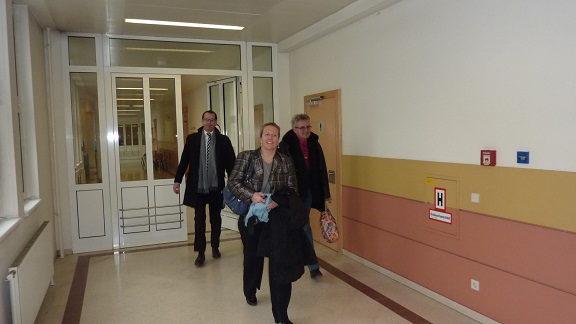 Waiting to go inside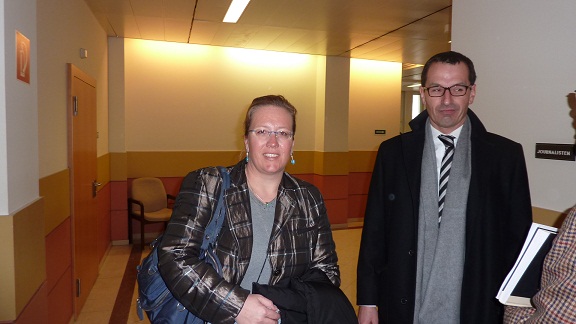 Discussions on what to expect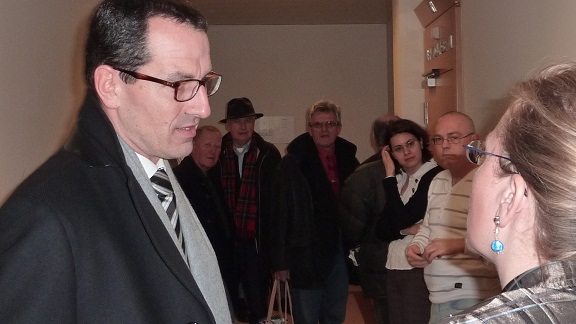 The smirking judge awaits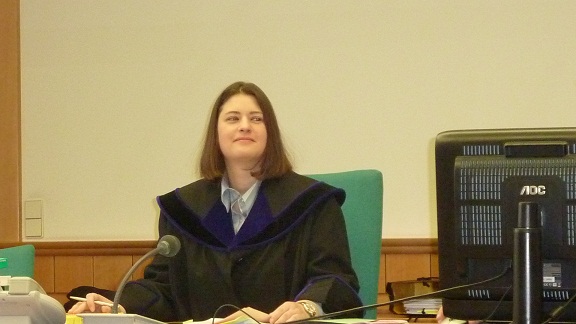 Elisabeth gets seated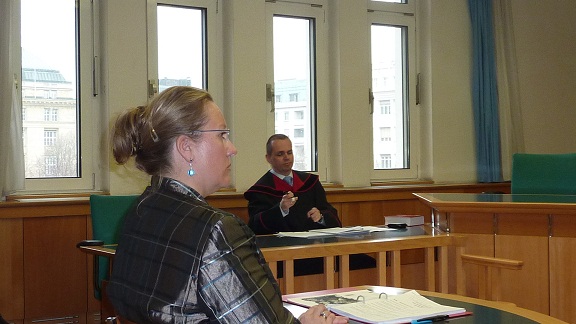 Reading of the charges and delivering the verdict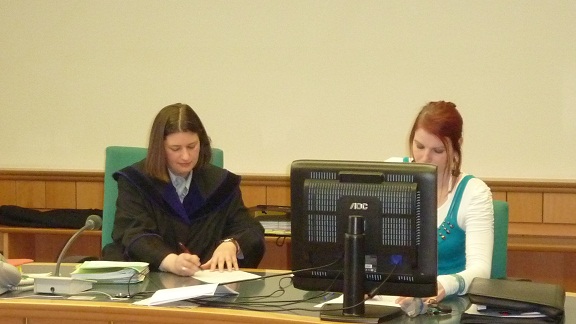 12:10 Judge: the integration of muslims is surely a question of particular public interest – you are allowed to be critical – but not incitement of hatred

(- judge states the allowed utterances)

The language used in the seminars were not inciting hatred, but the utterances regarding muhammad and paedophilia were punishable.

"Paedophilia" is factually incorrect, since paedophilia is a sexual preference which solely or mainly is directed towards children. Nevertheless, it does not apply to mohammad. He was still married to Aisha when she was 18. It is a "denigration of religious teachings" and are found guilty and sentenced to 120 days, which approaches the minimum of € 480.

12:20 The hearing is closed.

12:21: Unrest breaks out in the room. Elisabeth's lawyer has appealed against the verdict.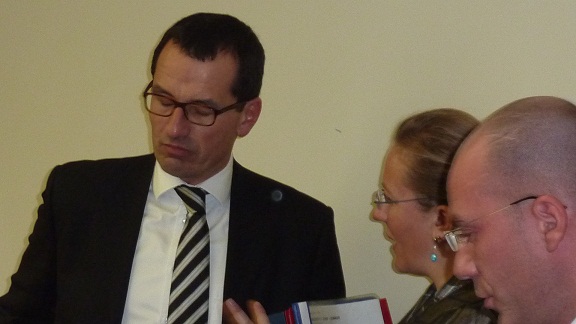 NOTE: So by default, any rapes of children by Muslims around the world of "young brides" is not classified as rape or pedophilia by this judge.
Elisabeth states: "It's a sad day for my daughter and all girls out there. "I'm Partially guilty. Incitement to hatred: "Not guilty". I've been fined 480 euros.
NOTE:An anonymous lawyer advises the TT that: "Elizabeth should appeal this because, as someone who uses language, I take 'pedophilia' to refer to a sexual interest in children, and so does the dictionary. It doesn't mean someone who also has a sexual interest in adults, or someone who goes on to have sex with the adult they abused as a child. I'm sure expert evidence can be brought to show that people who also have sex with adults, or who continue to have sex with the child even after the dhild reaches the age of consent, have been punished, and heavily so, by the courts. e.g. the Austrian man who imprisoned and abused that girl until she was 18 – he is commonly referred to as a monster, and appears to have done exactly what the judge says let's mohammed off the charge of pedophilia.
This seems to be a case of the judge wanting to convict, but not wanting to be seen as oppressive to free speech. Basically by convicting for impoliteness, saying something that is factually correct, but should be be said.
I think that is the emotional position of the courts, at least on the continent. the courts, like the governments are desperate to hold it together. But I think it will fail because things are moving too fast. So I think they will be forced to retreat to the more defensible line that you can say things that are factually correct, but if you say things that aren't then we'll get you. on that basis Elisabeth would be acquitted. I think she can force the courts back to that line at appeal, especially given the absurd use of language by the trial judge. So I think she should appeal."
ALSO, even more relevant: Natascha Maria Kampusch (born 17 February 1988 in Vienna) is an Austrian television hostess mostly known for her abduction at the age of 10 on 2 March 1998. Kampusch was held in a secret cellar by her kidnapper Wolfgang Priklopil for more than eight years, until she escaped on 23 August 2006. The media attention later led to her signing a contract with Austrian channel Puls 4 for her own talk show, which had its premiere on 1 June 2008.
Natascha is reported to have had sex 'willingly' with Priklopil. She was 18 1/2 when she escaped. So if Priklopil is classed as a pedophile then Mohamed is too.
And then there's Mohamed and men: