Right, and this dufus still refuses to call it Islamic terrorism, though it's directly responsible for every jihadi attack within America and abroad. The US is just fighting against 'terrorism', in much the same way as it was fighting against Kamikazism in the Pacific, during WWII. KGS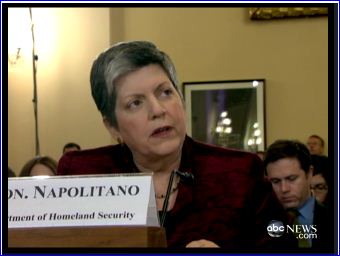 Terror Threat 'Most Heightened' Since 9/11, Napolitano Says
ABCNews: The threat of terrorism is at "its most heightened state" since the 9/11 attacks nearly a decade ago, U.S. Homeland Security Secretary Janet Napolitano said today.
"The terrorist threat facing our country has evolved significantly in the last ten years — and continues to evolve — so that, in some ways, the threat facing us is at its most heightened state since those attacks," she said before the House Homeland Security Committee.
Her comments were a sobering reminder that the potential of another attack is real and growing, most notably from individuals radicalized inside the United States, despite elaborate security measures implemented by the government since 2001.
"One of the most striking elements of today's threat picture is that plots to attack America increasingly involve American residents and citizens," Napolitano said, referring to so-called homegrown terrorists fueled by the Internet and connections with operatives overseas.
More than two dozen Americans have been arrested on terrorism charges in the past two years, according to government statistics.
Fifty individuals involved in 32 high-profile terrorism plots involving al Qaeda-like ideology in the past decade were U.S. citizens at the time of their arrests, according to a study by the New York State Intelligence Center. Most were natural-born.