The queen of Jordan better be careful, or she might end up bringing the entire throne down on their heads, because "The Tribes" are pissed off at her meddling in areas that do not belong to her. KGS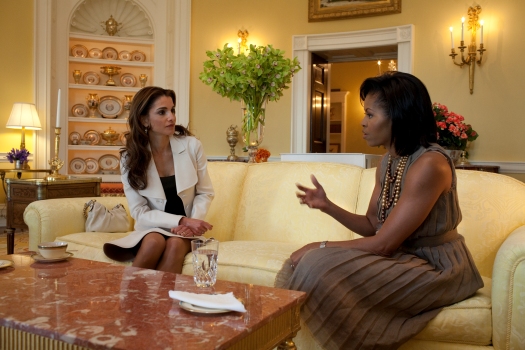 NOTE: Here's her royal whininess, "Queen Michelle" giving pointers to the queen of Jordan on how to promote their own sense of self worth, but whose only claim to fame is that she lies on her back for the top guy. In a strange way, the TT sympathizes with "The Tribes", we simply do not need (at least in the US, unelected) wives of leaders using their position to promote their own agendas.
UPDATE: Here's another shot by "The Tribes" across the royals' bow,
Jordan's tribes criticize queen's role
ArabNews: AMMAN: Jordanian tribal figures have issued a petition urging King Abdullah to end his Palestinian wife's role in politics, in a new challenge to the monarch grappling with fallout from uprisings in Tunisia and Egypt.
Evoking comparisons with the wives of Tunisia's former strongman Zine al Abidine Ben Ali and Egypt's President Hosni Mubarak, the signatories attacked Queen Rania's Palestinian origin and accused her of using state funds to promote her image abroad without concern for the hardship of ordinary Jordanians.
The 36 figures are drawn from conservative East Bank tribes who form the backbone of the Hashemite monarchy's support — as opposed to Jordanians of Palestinian, or West Bank, origin who are the majority of the country's 7 million population.
"She is building power centers for her interest that go against what Jordanians and Hashemites have agreed on in governing and is a danger to the nation and the structure of the state and the political structure and the institution of the throne," the petition said.
"Disregard for the content of the statement will throw us into what happened in Tunis and Egypt and what will happen in other Arab countries," it added.
The unusually blunt statement reflects the deep rift between nationalist East Bank Jordanians and the majority Palestinian population, rather than a direct challenge to Abdullah's rule.
But it keeps up pressure on the monarch who responded to anti-government protests last week by dismissing the cabinet and appointing former army officer Marouf Bakhit as prime minister.
The move, which followed a $500 million package of state aid to raise civil service salaries and curb price rises, aimed to address East Bankers' alarm over economic liberalization by the previous government which threatened their state benefits.