Here in Finland, the media is religiously reporting that the Muslim Brotherhood, though it will have a large role in Egyptian politics, will more than likely not be a destabilizing factor for the reason. It's their meme and they're sticking to it. Meanwhile, Israel hasn't the luxury in believing fairy tales, and is seriously worried over what the rise of the MB will mean to their fuel supply.
NOTE: The Gas line between the two states has been bombed (others are saying it was Egypt and Jordan's gas line) and the newly elected, tranistional VP, Omar Suleiman has been already targeted by an assassination attempt.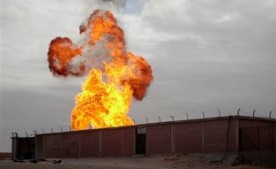 Israel jittery about gas supply from Egypt
Feb 6, 5:11 AM (ET)
By AMY TEIBEL
JERUSALEM (AP) – An explosion at an Egyptian gas terminal that disrupted the supply of fuel to Israel had Israeli officials pressing Sunday to speed development of a natural gas deposit that they say can make Israel energy independent.
Infrastructures Minister Uzi Landau wants the government to back loans so financing can be obtained to develop the Tamar field, off Israel's coast in the Mediterranean Sea, a spokesman said. Landau also favors exempting the field's developers from a proposed windfall tax.
"We have to do everything to improve Israel's energy security," Landau told Israel Radio on Sunday. "It is Israel's obligation to remove as soon as possible every obstacle" to developing Tamar, he said.
Landau's spokesman, Chen Ben-Lulu, said the goal was to have gas from Tamar flowing into Israel by 2013. The explosion in Egypt on Saturday "just proves" the need to do so, he added.
"We want energy independence and to achieve it as soon as possible," Ben-Lulu said.