First of all, if it was indeed arson, it was a stupid stunt, someone could have indeed been killed or injured because of it or other properties damaged. That said, the people living in the area of the planned mosque can breath a sigh of relief, no potential staging ground for the Islamification of their city and region is going to be built there.
This of course kicks the can further down the road because it will not stop the mosque building in the UK, only a reversal in the immigration policy will do that, with an eventual shift in the Muslim population as they head for Muslim shores due to their not being able to practice sharia in the land. KGS
H/T: Vlad
Huge blaze at Shotton Lane Social Club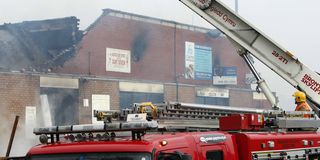 FIRE crews are still tackling a huge blaze thought to have been started deliberately at the former Shotton Lane Social Club which led to 100 people being evacuated from their homes.
North Wales Fire and Rescue Service said properties around the fire were evacuated after the alarm was raised shortly after 4am on Friday (February 4), and residents were moved to Queensferry's Asda store and Deeside Leisure Centre.
Firefighters from Deeside, Flint, Mold, Rhyl, Holywell and Wrexham attended the scene.
Flintshire Muslim Cultural Society (FMCS) had been trying to raise £150,000 to buy the club and turn it into an Islamic centre.