THE GOVERNMENT SENDS IN ITS SUPPORTERS ON HORSE AND CAMELBACK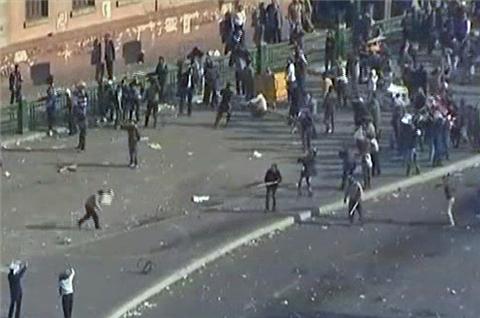 Pro- and anti-government supporters clash in Cairo day after president refuses to step down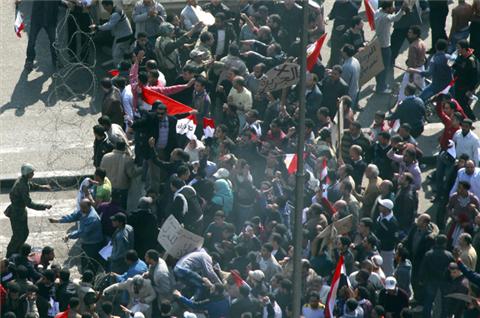 THE STAR TRIBUNE: CAIRO – Several thousand supporters of President Hosni Mubarak, including some riding horses and camels and wielding whips, attacked anti-government protesters Wednesday as Egypt's upheaval took a dangerous new turn. In chaotic scenes, the two sides pelted each other with stones, and protesters dragged attackers off their horses.
The turmoil was the first significant violence between supporters of the two camps in more than a week of anti-government protests. It erupted after Mubarak went on national television the night before and rejected demands he step down immediately and said he would serve out the remaining seven months of his term.
Wednesday morning, a military spokesman appeared on state TV Wednesday and asked the protesters to disperse so life in Egypt could get back to normal. The announement could mark a major turn in the attitude of the army, which for the past two days has allowed protests to swell, reaching their largest size yet on Tuesday when a quarter-million peace packed into Cairo's central Tahrir Square.
Nearly 10,000 protesters massed again in Tahrir on Wednesday morning, rejecting Mubarak's speech as too little too late and renewed their demands he leave immediately.
In the early afternoon Wednesday, an Associated Press reporter saw around 3,000 Mubarak supporters break through a human chain of anti-government protesters trying to defend thousands gathered in Tahrir.
Chaos erupted as they tore down banners denouncing the president. Fistfights broke out as they advanced across the massive square in the heart of the capital. The anti-government protesters grabbed Mubarak posters from the hands of the supporters and ripped them.
The two sides began hurling stones and bottles and sticks at each other, chasing each other as the protesters' human chains moved back to try to shield the larger mass of demonstrators at the plaza's center.
At one point, a small contingent of pro-Mubarak forces on horseback and camels rushed into the anti-Mubarak crowds, swinging whips and sticks to beat people. Protesters retaliated, dragging some from their mounts, throwing them to the ground and beating their faces bloody.
Protesters were seen running with their shirts or faces bloodied, some men and women in the crowd were weeping. A scent of tear gas wafted over the area, but it was not clear who had fired it.
The army troops who have been guarding the square had been keeping the two sides apart earlier in the day, but when the clashes erupted they did not intervene. Most took shelter behind or inside the armored vehicles and tanks stationed at the entrances to Tahrir.
NOTE: It doesn't look like Mubarak is taking Zero's advise.