The True Finns is the only party taking a firm stand against the EU and against mass immigration and illegal migration and to some extent, Islamization. The Tundra Tabloids does not approve of any nanny statism and the soft tyranny that stems from it, but presently, they are the only party that's speaking strongly against these issues. The Tundra Tabloids wishes that they would become a true liberating party and call for an end to the welfare state and back strong free market policies and end the stranglehold of government on the individual. KGS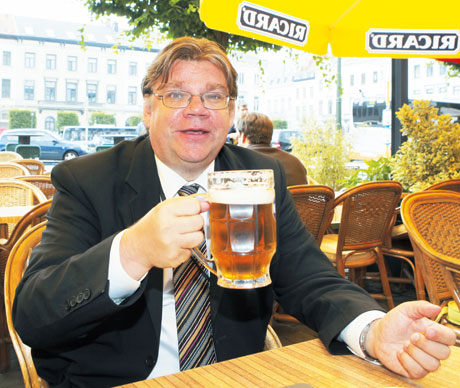 True Finns on the Rise
YLE: A fresh opinion poll commissioned by YLE shows another increase in support for the True Finns party. Support for the party now stands at a record 16.6 percent.
The popularity of the True Finns has been growing rapidly since last February. In just one year, support for the party has increased by ten percentage points.
Up to now, the True Finns Party Chair Timo Soini has responded to his party's growing support with cautious optimism. With the release of the new figures, Soini evidenced a confident tone, as he revealed his ambitions to become the next Government's Minister of Economic Affairs.
The True Finns Chair was also scathing about Finland's current climate and energy policies, in addition to saying that he would not sit in government with the Green Party.
Three Biggest Parties in Close Competition
The YLE poll shows the conservative National Coalition remains the largest party, but its support has fallen to 20.4 percent. The opposition SDP has overtaken the Centre Party for second place. The SDP now stands one and a half percentage points behind the National Coalition.
Nearly 2900 people were interviewed for the poll in January. The margin of error is plus minus 1.7 percentage points.
NOTE: Then there is this commie jerk, Paavo Arhinmäki, Parliamentarian and Chair of the Left Alliance, who notes the weakness of the other three main parties, SDP, Center Party and the National Coalition, and longs to make the same kind of rise in the polls as the True Finns.
But get bent Arhinmäki, we don't want your failed socialist/commie policies, you miscreant and malcontent, and political hack. We don't need you and your ilk anymore than we need the national socialists, Maoism and every other totalitarian statist ideology.