The Tundra Tabloids is a strong supporter of liberty, freedom and (but very limited style) self government, but as Pamela Geller states at Big Peace:
"But will Islamic jihad allow for anything but the sharia? Never. As bad as Mubarak was and is, Islamic law is far worse. The battle in Egypt is between the secularists and Islamic supremacists; they are united only in their hate for Israel, as mandated by the Qur'an. The cries of "Allahu akbar" in the streets do not instill confidence in the outcome."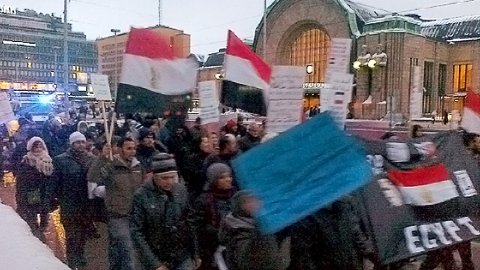 The Egyptians are clamoring for sharia and the caliphate, the TT seriously doubts that the Egyptians marching in the streets of Helsinki are real supporters of a modern, democratic form of government that supports true pluralism and protection of minorities and human rights. We are witnessing one bad form of rule being challenged by an even worse form of rule. KGS
NOTE: The Finnish media are predictably staying true to form in their miserable, superficial analysis of the news coming from the ME region.
Egyptians in Finland Demonstrate
published Fri 08:28 PM, updated yesterday 08:19 PM
Image: Kari Nihti / YLE
Egyptians living in Finland turned out in downtown Helsinki Saturday to show solidarity for protesters in their homeland.
The protest action began in front of the Egyptian Embassy in the Kaivopuisto area, before progressing to the Finnish Parliament and the Central Railway Station.
Like their countrymen at home, the group is calling for the immediate resignation of Egyptian President Hosni Mubarak.
On Friday night Mubarak fired his cabinet ahead of forming a new government. However he himself did not bow to pressure to step down from office.
Egyptian doctor Ahmed Geneid was present during the peaceful protest, in which a few dozen Egyptians participated. He said he was thrilled by the idea that Mubarak would finally step down.
"He's been there for thirty years, and we don't have freedom or democracy.Unemployment has risen and the government has become corrupt, so the only solution is for Mubarak to go," he declared.
Geneid says he hopes to see a time after Mubarak, which would bring freedom and democracy.