THE SAUDI NOOSE
TSN: MORE KORANIC STUDY AND HEAD BANGING WILL MOLD THIS WILD BREED
SHOCKER: sexually frustrated Muslim youths living in culturally oppressive societies with lots of money and nothing to do except read the Koran, create dangerous pastimes to liven up their otherwise dull lives.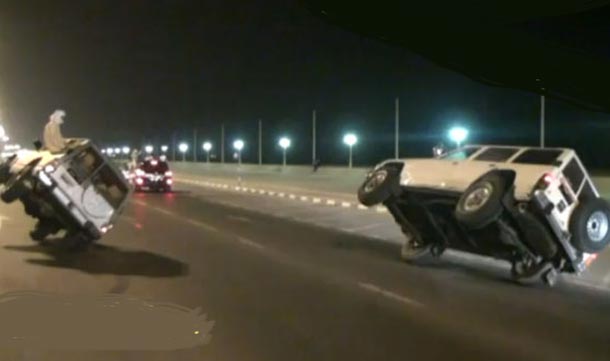 Young Emiratis blamed for high car accident rate
Young Emiratis blamed for high car accident rate Study finds 60% started driving before reaching legal age
Emirates 24/7: Young Emiratis' attitudes, values, and response to peer pressure are behind the alarming number of UAE car accidents, injuries and fatalities, according to a new study sponsored by the Emirates Foundation for Philanthropy.
The study, conducted by two faculty members from the College of Humanities and Social Sciences at UAE University, aimed at identifying the reckless driving practices adopted by young Emirati males who are frequently cited for the rate of car accidents, which is very high by international standards. Dr Taha Amir and Dr Shamma Al Falasy identified the factors that contribute to this behaviour.
Some 576 males and females in the age range 18-33, from towns throughout the country were investigated in the study. One of the three groups surveyed consisted of 466 young Emirati males. A second group consisted of 52 young female Emiratis and a third group consisted of 58 young Arab expatriates. The study data was collected by 98 students from UAE University.
The study showed that the three groups were dissimilar on key aspects related to violations and risky driving practices. The female Emiratis and Arab expatriates adhere more to speed limits than the male Emiratis who appear to thrive on risk and do not abide by traffic and safety rules.