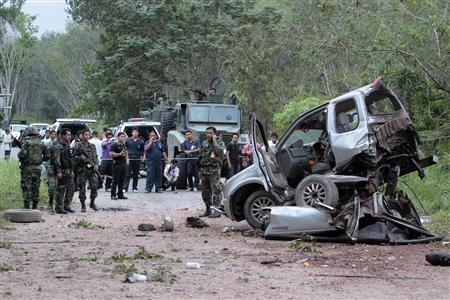 Roadside bomb kills 9 civilians in restive southern Thailand; deadliest attack in a year
By The Associated Press (CP) – 18 hours ago
PATTANI, Thailand — Nine people have been killed by a roadside bomb in southern Thailand, where an Islamic separatist insurgency has entered its eighth year.
Police Col. Sawas Tiawirat says Tuesday's bombing hit a car in Yala province. Sawas says another two people were wounded in the blast.
The bombing was the single deadliest attack in the region in more than a year.
Last week, four soldiers were killed in an attack on their outpost in neighbouring Narathiwat province.
The insurgency in Thailand's three southernmost provinces has left more than 4,300 people dead since January 2004.
RELATED: The ROP has been busy in bombing in Asia recently with the Philippines getting their share as well: