As Heznazi backed billionaire, Najib Mikati, was granted to form a government as prime minister-designate, other forces in Lebanon are not taking the Heznazi's increase in political power.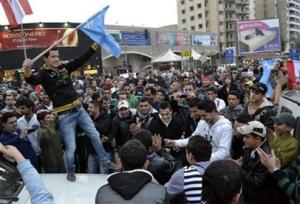 Anti-Hezbollah protests in north Lebanon
Hundreds of demonstrators take to streets of Tripoli to denounce impeding appointment of Hezbollah-backed candidate Najib Mikati as PM.
TRIPOLI – More than 500 people gathered on Monday in Lebanon's northern city of Tripoli to denounce the impending appointment of Hezbollah-backed candidate Najib Mikati as prime minister.
Supporters of acting Prime Minister Saad Hariri, whose government collapsed earlier this month, gathered in a town square chanting "Out with Najib!" and "Hezbollah, party of the devil!" as gunshots were heard in the area.
The demonstrators vowed they would return in force on Tuesday at the urging of local Sunni Muslim sheikhs.
The billionaire Mikati, a native of Tripoli, was tipped to replace Saudi-backed Hariri after Hezbollah and its allies named him on Monday as their candidate for the premiership.
Hariri, a popular Sunni leader, has said he would not take part in a government headed by a candidate chosen by the Shiite militant group.