It's come to this. Due to the shortfall of doctors, the Finnish nationalized health care system has been forced finding new inventive ways to deal with the lack of doctors their utopian healthcare system is responsible for. Now Finnish government run healthcare will take to training nurses to write prescriptions in places where medical doctors are in short supply.
Finnish nurses are highly trained, and they'll be given only 'limited rights', but in the TT's opinion,  a nurse shouldn't be replacing a medical doctor. This case highlights the severe pitfalls in state run healthcare. When you nationalize anything, you end up rationing it later on down the road. KGS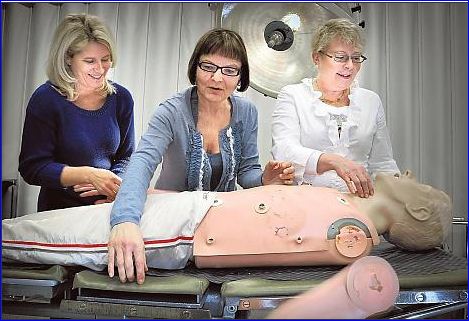 Nurse Eija Hotakainen (left) and her colleagues Aino Varrio and Outi Korhonen have started special training at the Oulainen unit of the Oulu University of Applied Sciences to become qualified for a limited right to give prescriptions to patients.
Nurses start prescription qualification training
HS: Many of the applicants come from municipalities that suffer from a shortage of doctors. This was the case with nearly half of the nurses taking part in the opening seminar in Oulainen. "There is a constant shortfall of a few doctors", says Varrio, describing the situation in her hospital in Kemijärvi.