People who have no idea what true freedom means, they just want lower prices in bread and the right to vote for their oppressive rulers than to have the King do it for them. They might as well carry posters of  'Sponsored by the Muslim Brotherhood.' KGS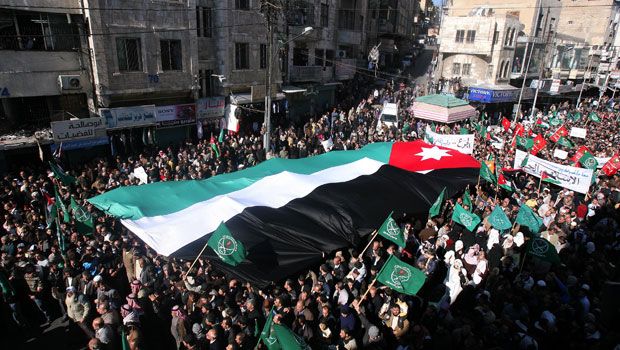 NOTE: It's a fact that 70% of the population identify themselves as 'Palestinian', all the people need to do is remove the star in the middle of the red field, and 'presto', they got a Pali flag! Also, do take a closer look at the pic and decide for yourselves whether the green flags are in fact, representing the Muslim Brotherhood.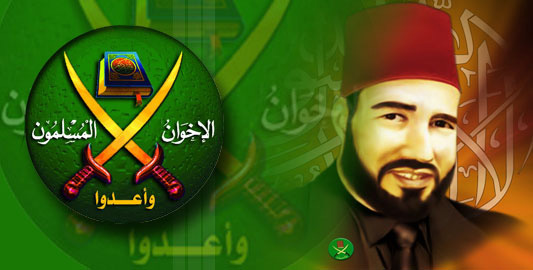 Jordanian protests gather pace
AMMAN: Jordan's opposition has vowed continual protests over price increases and inflation until resignation of the prime minister and his government.
More than 5,000 people from across the political spectrum, including the powerful Muslim Brotherhood, the left wing groups and the trade unions staged Friday what they called a "Day of Rage" in the Jordanian capital of Amman and in the northern town of Irbid.
They demanded Prime Minister Samir Rifai step down and for Jordanians to be able to elect their prime minister and other ministers rather than having them appointed by King Abdallah.
Streets protests have mounted over the past week, spurred on by Tunisia's example, and despite government moves to lower the prices on basic goods and fuel. "(Prime Minister Samir) Rifai, out, out! People of Jordan will not bow," protesters chanted as they marched from Al-Hussein Mosque in central Amman to the nearby municipality building. "Our demands are legitimate. We want bread and freedom."
Police handed out bottles of water and juice to the demonstrators, who carried banners reading, "We demand social justice and freedom," "No to oppression, yes to change" and, "We need a national salvation government."