DOJ AND FBI: SO WHAT IF ETHNIC EUROPEANS ARE TYPE CASTED AS TERRORISTS, THEY ARE THE LEAST LIKELY TO CRY FOUL.

An anonymous source sends in the following:
"Have a look at the DOJ press release. The story, in itself, is most important.  However, it might be worth while to focus on the FBI-NYPD Joint Terrorism Task Force logo that appears at the bottom of the release.  The facial features represented on the logo's character might suggest that authorities are no longer ravaged by political correctness – where ethnic Europeans are concerned.  If my impression is right, this selective extension of respect and consideration is unacceptable.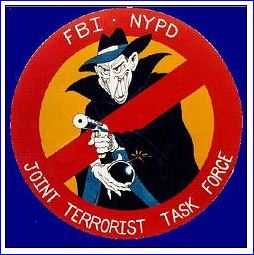 Now what would happen if the FBI chose another character, more representative of the terrorists currently wreaking havoc upon society, not only in the US, but around the world? KGS