It's also a move to push for the separation of church and state in Finland.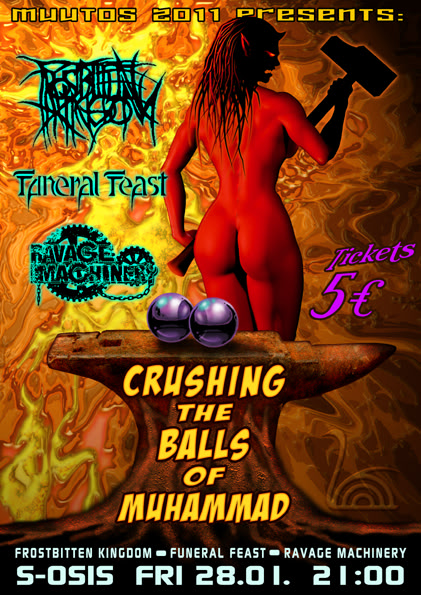 Jiri Keronen: The evening starts from Rovaniemi with Ravage Machinery, firing a heavy thrash metal, in the spirit of Slayer and Anthrax. It's the band's solo guitarist Kalle Hoti farewell gig. Later, it's the turn of Funeral Feast, that is, Turku blacker death metal band pump a diaphragm of gripping riffs and increase men's sperm count. Funeral Feast is currently working on their second album. Evening to decide Turku epic black metal band Frostbite Kingdom. Frostbite Kingdom last year published a new album, Infidel Angel, whose theme concerns an area that receives many Western groans in agony of political correctness, namely Islam.

In honor of Metal night, Change 2011 is to propose a referendum on the relationship between church and state. Recent accelerating of resignations from the Church has shown that the traditional role of the Church is crumbling, and it is no longer acting the same part of the lives of Finns than before. In addition, the separation of church and state are also theological reasons for the doctrine of Christianity itself.
NOTE: The Tundra Tabloids rejects the thinking that Separation of Church and State is the main aim we should be pulling for right now. It's for the majority of the people to decide for themselves. Nor is Christianity to be placed alongside Islam as being the moral comparative, nor being deemed as an equal danger. That said, It's great they're being so up front about slamming it to Mohamed.