This is just a taste of things to come, they're not going to let their easy pickings go that easily, especially when no one will hold the murdering jihadis to account. KGS
S.Sudan: 20 police die in attack by Arab tribe
By JASON STRAZIUSO and MAGGIE FICK, – 1 hr 1 min ago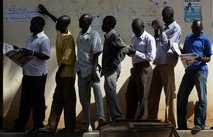 al-Associated de-Pressed JUBA, Sudan – Arab tribesmen accompanied by a northern Sudanese government-backed militia killed 20 policemen in the disputed region of Abyei, a southern military spokesman said Monday, raising concerns of violence as the south holds its independence referendum.
The attack came Sunday, the first day of voting in Southern Sudan's weeklong referendum, which is widely predicted to break Africa's largest country in two.
Abyei, which straddles the north-south divide and holds oil deposits, had been promised its own self-determination vote, but now its future will be decided by north-south negotiations that have so far made little progress.
Col. Philip Aguer, the spokesman for Southern Sudan's army, said that the Misseriya, an Arab tribe that moves its cattle herds through Abyei, attacked the village of Maker-Adhar on Sunday with anti-tank weapons and artillery. Aguer said he believes the attack was planned.
"They were not with cattle, they were coming for (an) attack," Aguer said.
Aguer said the Misseriya were accompanied by uniformed militia men known as the Popular Defense Forces, a Khartoum-backed militia whose existence was outlawed by the 2005 peace agreement that ended the 23-year north-south civil war.
Aguer said 20 police serving with Abyei's joint integrated police unit were killed. Another 30 were wounded.