Katie Couric: Koranic Scholar
The hostess is not anchored in reality.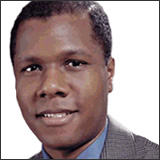 Amid late 2010's snowstorms and champagne toasts, most folks likely missed a truly stunning comment by a high-profile U.S. journalist. Katie Couric's words epitomize the ignorance and politically correct blindness that befall too many of America's media elite.
In a CBSNews.com year-in-review discussion, the Evening News anchor lamented that "the bigotry expressed against Muslims in this country has been one of the most disturbing stories to surface this year." She complained about "this seething hatred many people feel for all Muslims, which I think is so misdirected, and so wrong — and so disappointing."
Couric added: "Maybe we need a Muslim version of The Cosby Show.…I know that sounds crazy. But The Cosby Show did so much to change attitudes about African-Americans in this country, and I think sometimes people are afraid of what they don't understand."
With apologies to chickens, ostriches, and other feathered creatures, Couric's comments are multifariously bird-brained.
Here is the list of Islamic Jihadi perps:
• Last February 22 and April 23, respectively, Najibullah Zazi and Zarein Ahmedzay pleaded guilty to supporting a foiled September 2009 al-Qaeda plot to bomb New York City subways.
• May 26: Hosam Maher Husein Smadi pleaded guilty to attempting to bomb Dallas's 60-story Fountain Place tower.
• June 21: Faisal Shahzad pleaded guilty to parking a thankfully dysfunctional car bomb outside The Lion King in Times Square on May 1. Sentenced October 5 to life in prison, an unrepentant Shahzad said, "We are proud terrorists and we will keep on terrorizing you."
• July 28: Madhatta Haipe — a founder of Abu Sayyaf, al-Qaeda's Philippine franchise — pleaded guilty to promulgating the 1995 kidnapping of 16 people, including four Americans, in Mindanao.
• August 2: Russell Defreitas, a.k.a. Mohammed, and Abdul Kadir were convicted of conspiring to detonate jet-fuel tanks and pipelines at New York's JFK Airport to incinerate property and passengers.
• September 23: Aafia Siddiqui was convicted of attempted murder and assault against American personnel in Afghanistan. She was arrested with a two-pound jar of sodium cyanide and a computer thumb drive bearing, among other things, descriptions of New York City landmarks.
• October 18: James Cromite, a.k.a. Abdul Rahman, converted to Islam in prison. He and three others were convicted of conspiring to blast a Bronx synagogue and use Stinger missiles to demolish military planes at New York's Stewart Air Base.
• October 20: Zachary Adam Chesser, a.k.a. Abu Talhah al-Amrikee, pleaded guilty to attempting to support Somalia's al-Shabaab terror group and threatening writers of the South Park TV show for lampooning the prophet Mohammad.
Remember, these Muslim terrorists are behind bars. Additional terror suspects await trial, such as accused Fort Hood shooter Maj. Nidal Hasan (13 dead, 31 injured), alleged Christmas 2009 Crotch Bomber Umar Farouk Abdulmutallab, and Mohamed Mohamud, who police say planned to detonate a car bomb at a November 27 Portland, Ore., Christmas-tree lighting. According to prosecutors, Mohamud said: "I want whoever is attending that event to leave, to leave either dead or injured."
By Deroy Murdock