Thanks to Sophie (person of the book) for sending in the links on the development of the story, which took place yesterday afternoon in Arizona, as far as the Tundra Tabloids knows the Congresswoman is still alive.  KGS
UPDATE: Giffords out of surgery, and federal judge named among the dead.
UPDATE: Loughner listed a flag burning video as a favorite on You Tube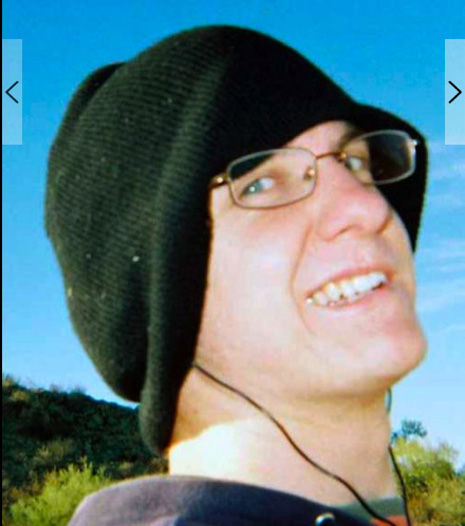 Video of (then) live feed of events in the aftermath of the shooting.
The dead…….
-Judge John Roll 63.
Christina Taylor Greene, 9.
– Dorthy Murray, 76.
– Dorwin Stoddard, 76, a pastor at Mountain Ave. Church of Christ.
– Phyllis Scheck, 79.
– Gabe Zimmerman, 30, Giffords' director of community outreach.
From the Smoking Gun:"Before its content was deleted following today's shooting of Rep. Gabrielle Giffords, the alleged gunman's MySpace page included, as seen above, a picture of suspect Jared Loughner and a photo of what appears to be a Glock 9mm handgun atop a U.S. history textbook.
The images were among a handful of photos on Loughner's MySpace page, where he used the nickname "fallenasleep."
Loughner, 22, was taken into custody shortly after this morning's shooting spree outside a Tuscon supermarket. According to news reports, Loughner shot Giffords and 11 other victims with a Glock 9mm."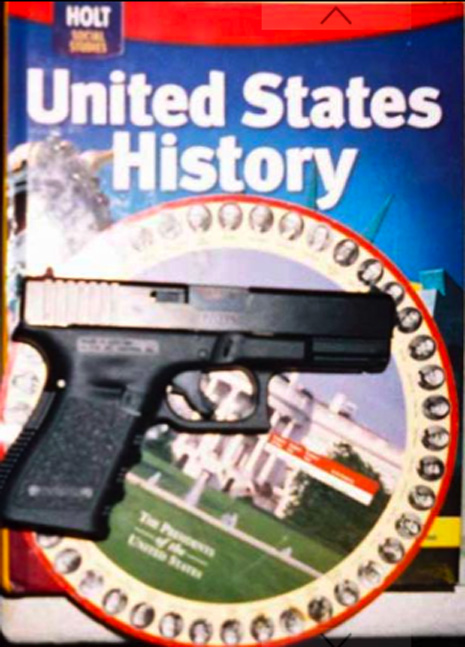 Michelle Malkin perhaps nails it, though to early to tell: He was a nut:
The man linked to the shooting today of Rep. Gabrielle Giffords and others is 22-year-old Jared Lee Loughner, the Associated Press reported.
Police have surrounded a house at 7700 N. Soledad Ave., which is the address listed by a man with the same name on a variety of online accounts and in the volunteer registry for the 2010 Tucson Festival of Books. The home is near West Magee Road and North Thornydale Road on the northwest side, about five miles from the shooting scene.
A former classmate of Loughner at Pima Community College said he was "obviously very disturbed."
"He disrupted class frequently with nonsensical outbursts," said Lynda Sorenson, who took a math class with Loughner last summer at Pima Community College's Northwest campus.
Sorenson doesn't recall if he ever made any threats or uttered political statements but he was very disruptive, she said. He was asked to leave the pre-algebra class several times and eventually was barred from class, said Sorenson, a Tucson resident…
…The online accounts also contain bizarre discussions of a new currency and literacy, as well as threatening and despairing messages.
"WOW! I'm glad i didn't kill myself. I'll see you on National T.v.! This is foreshadow …. why doesn't anyone talk to me?.." he posted on MySpace Dec. 14.
On Dec. 13, he wrote: "I don't feel good: I'm ready to kill a police officer! I can say it."
In a posting on YouTube, Loughner wrote repeatedly about a new currency.
"I'm thinking of creating a new currency," he wrote. "Therefore, I'm thinking of a design for my new coins size, shape, color, material, and image to start a new money system."
He also wrote repeatedly about literacy. In a written message on YouTube, Loughner said: "The majority of people, who reside in District-8 are illiterate — hilarious. I don't control your English grammar structure, but you control your English grammar structure."
In a message posted on his MySpace account, titled "Goodbye friends," Loughner said: "Dear friends…please don't be mad at me. The literacy rate is below 5%. I haven't talked to one person who is literate." It was unclear when it was posted.
In a MySpace profile, Loughner said "My favorite interest was reading, and I studied grammar. Conscience dreams were a great study in college."
He lists among his favorite books "Mein Kampf" and "The Communist Manifesto". But he also includes a broad variety of other titles, including: "Animal Farm," "Brave New World," "To Kill a Mockingbird," and "One Flew Over the Cuckoo's Nest".
PowerLine says: This Twitter feed by one Caitie Parker, who knew Loughner and says she once played in a band with him, is getting a lot of attention. She describes him as a lefty. This, apparently, is Loughner's demented YouTube channel.
UPDATE: Weasel Zippers has a pic of the Tweets that call him a Lefty: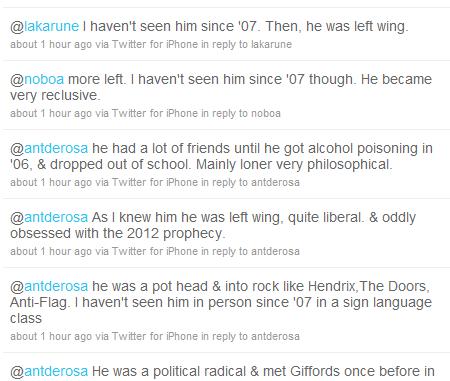 NOTE: Regardless if indeed Loughner was a Lefty, it in no way means a damn thing, he's a total crackpot, and his words are meaningless.
ABC News The Blotter: In school: "A girl had written a poem about an abortion. It was very emotional and she was teary eyed and he said something about strapping a bomb to the fetus and making a baby bomber," Ali told ABC News."