This is what got EDL British patriot, Tommie Robinson in trouble with the law, the forcible removal of Islam's black flag of jihad from the jihadi supporters who were filmed burning poppies on the day honoring British men and women killed while serving in the British armed forces. Robinson is in fact a patriot. Thanks to Vlad for making the following vid. KGS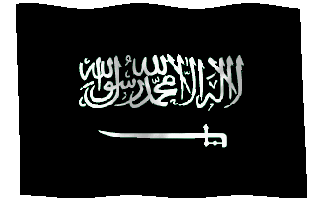 The Black Flag (al-raya) traces its roots to the very beginning of Islam. It was the battle (jihad) flag of the Prophet Muhammad, carried into battle by many of his companions, including his nephew 'Ali ibn Abi Talib.
— United States Military Academy, West Point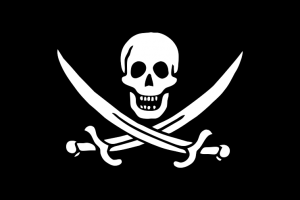 NOTE: Here's another black flag that others used to rally around causing mayhem and terror on the high seas. It's very doubtful that a band of pirate supporters would have been allowed to wave it in Britain during the 1600's/1700's in protest of the British military.
Anjem Choudary, the Pink Pirate of the jihad