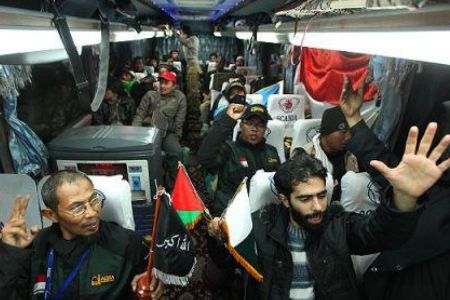 Arutz Sheva says this much:
Reports in the Arab media Sunday said that the IDF had detained a ship that was attempting to enter the waters off Gaza. The report said that the incident occurred in international waters. There was no comment from the IDF. On Saturday, a ship left from a Syrian port, bound for Gaza. Aboard were 8 far-left activists from Asian countries, Syrian sources said.
The Tundra Tabloids was forwarded the following message concerning the Asia 1 'aid ship', and it looks like the Egyptians are not as willing to allow materials inside the Islamonazis run strip as are the Israelis.
"Just an update for those following- the Asia 1 'aid ship' reached El-Arish on Friday. The Egyptians let most of those on board disembark and travel to Gaza (about 120 ppl.) However, they refused to let 46 Iranians and Jordanians even get off the boat. Additionally Egypt refused to allow 10 generators and other medical supplies donated by Iran into Gaza." -Asher
The Egyptians loathe the Gaza branch of the Muslim Brotherhood, the Hamas, as much as the Israelis, and are more than willing to deny them medical supplies, something of which the Israelis would never do. Therein lies the difference between cultures. What major international 'human rights' orgs will be now heard shouting from the rooftops about the evil Egyptian regime in its refusal to transport medical supplies? KGS