It's encouraging that the Vatican admits that the persecution and exodus exists, but dialogue, what is exactly going to come from that, really? KGS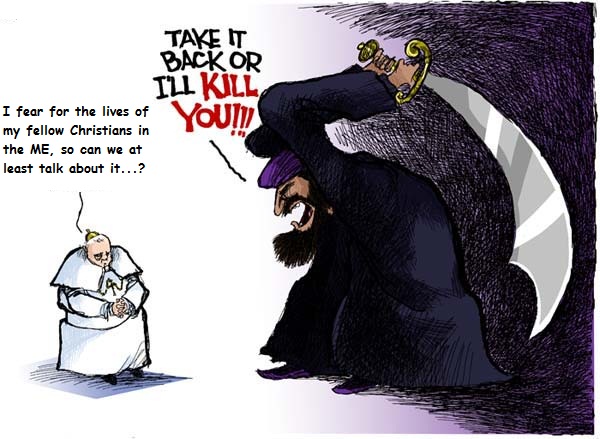 UPDATE 1-Pope to hold peace summit with religious heads
Sat Jan 1, 2011 12:39pm GMT
* Pope to go to Assisi in October, invites other leaders
* Denounces violence against Christians after Egypt bomb
* Vatican fears exodus of Christians from Middle East
(Updates with calling of Assisi summit)
By Philip Pullella
VATICAN CITY, Jan 1 (Reuters) – Pope Benedict, worried over increasing inter-religious violence, will host a summit of world religious leaders in Assisi in October to discuss how they can better promote peace, he announced on Saturday.
Benedict told pilgrims and tourists in St Peter's Square the aim of the meeting would be to "solemnly renew the commitment of believers of every religion to live their own religious faith in the service of the cause for peace".
He made the announcement hours after a bomb killed at least 17 people in a church in Egypt in the latest attack on Christians in the Middle East and Africa.
The Assisi meeting will take place on the 25th anniversary of a similar encounter hosted by the late Pope John Paul in 1986 in the birthplace of St Francis.