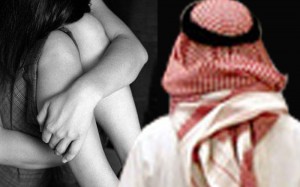 Those evil gins.
RELATED: TA court finds Katsav guilty of rape, sexual harassment
[Former Israeli president convicted of raping Tourism Ministry employee, assaulting Beit Hanassi worker and sexually harassing 18-year-old National Service volunteer; court says Katsav lied in his testimony.]
Rapist of 17 girls blames it on the 'devil'
Emirates 24/7: A man who raped 17 girls in Saudi Arabia, including a 13-year-old teenager, told the police he had committed such crimes on the devil's orders.
The unnamed man, a school employee, had used his religious treatment and dream interpretation skills to seduce the girls to his house, where he "had sex with them and tore their virginity," Anbakuk newspaper said on Thursday.
In a report from the capital Riyadh, it said one of the victims was a Saudi 13-year-old girl, who later begged him to "heal her virginity."
"Police also found texts and phone numbers of many other women in his mobile phone…the victims included Arab and Indonesian girls," it said.
"The man told the court in Riyadh that he had been seduced and commanded by the devil to commit such acts…the court will soon sentence him."