NOW SHE'S IN JAIL FACING THE HANGMAN
This story actually revolves around the drug sting a British woman has found herself in due to her Malay husband's brutality and criminal behavior. She now face the gallows as well. The Tundra Tabloids warns western women from getting involved with the Mohammedan, if they won't be the end to them, sharia law will. KGS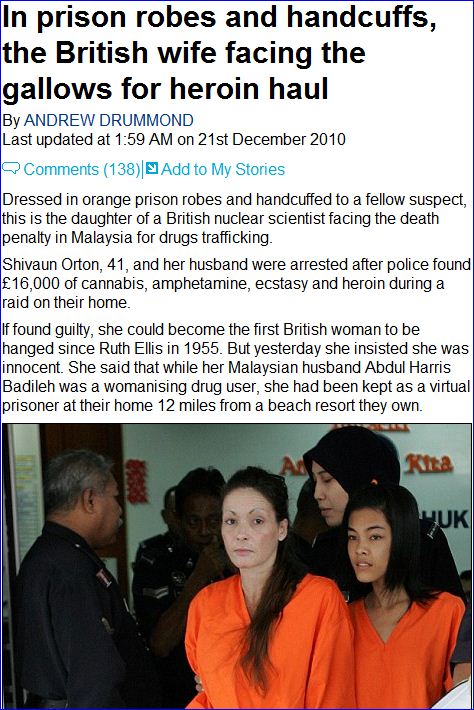 Shivaun Orten:
'I soon learned what it was like to be an Islamic bride,' she said. 'My husband insisted I live across the border in Terengganu, which is a strict Islamic state and which I call Taliban Land. I cannot go out by myself. I have to cover up. I am there to serve my husband and family.
'My husband on the other hand was out all the time, often with women and taking drugs. What angered me most was that the women were of no class at all, just tarts.
'It got so bad that in 2003 I packed my bags and got in the car. I had made it almost 200 kilometres and was within an hour of Kuala Lumpur and the airport and a flight back to London when I was stopped by police at a checkpoint near a town called Bentong.
'I was handcuffed and raped, twice each by two policemen, and one did it three times. My husband had phoned the police and set me up.
'He later admitted that he had said I was a runaway prostitute and told police to give me a warning before sending me home.'