The OIC is on the move, they're not resting for a bit until they're able to force feed the public at large with their Islamic mumbo jumbo 24/7. Move over Al-Jizz, you're not spreading enough Dawa to suit the Muslim Horde at the OIC. KGS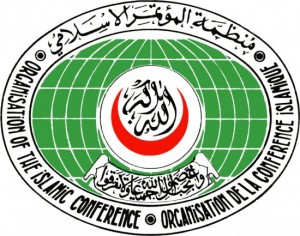 Saudi Arabia- OIC chief affirms need for strong Islamic media
Menafn: Culture and Information Minister Abdul Aziz Khoja addresses the General Assembly of Islamic Broadcasting Union in Jeddah on Wednesday.
(MENAFN – Arab News) Professor Ekmeleddin Ihsanoglu, secretary-general of the 57-member Organization of the Islamic Conference (OIC), on Wednesday emphasized the need for a strong media to confront the smear campaign against Islam and Muslims.
"There is big negligence from the part of Islamic media organizations in keeping with the fast developments in the media world," he told the General Assembly of the Islamic Broadcasting Union (IBU), an affiliate of OIC.
Ihsanoglu said the extraordinary OIC summit that was held in Makkah in 2005 at the initiative of Custodian of the Two Holy Mosques King Abdullah had called for strengthening OIC media agencies such IBU and the International Islamic News Agency (IINA).
NOTE: Remember that this chief of the OIC is not only a anti-Semitism denier, he's also a class A bigot: