Keep in mind Nicolai Sennel's work with Muslim criminals when you read this latest article, you'll better understand what is at the center of this violence. The Islamic mentality. KGS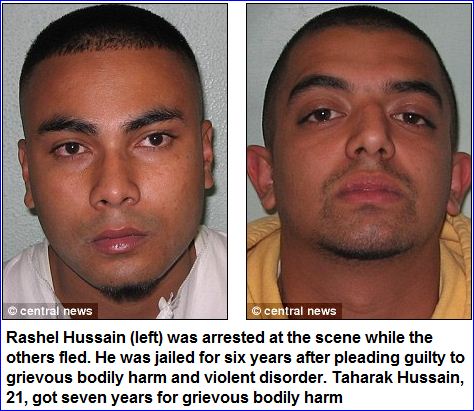 Gang who battered pedestrian with crowbar in brutal road rage attack jailed for nearly 20 years
By REBECCA CAMBER
Last updated at 1:44 AM on 23rd December 2010
A gang of thugs who stabbed a pedestrian in a road rage attack, torturing him with a crowbar, hammer and broken bottle have been jailed for almost 20 years.
A 30-year-old man was subjected to a brutal attack after almost being run over by a car as he left a popular Indian restaurant in Whitechapel, east London.
When the pedestrian swore at the driver in anger, he was confronted by three thugs who got out of the convertible BMW and another car following behind.
Rashel Hussain, 20, and his friends, twin brothers Jubhare and Taharak Hussain, both aged 21, battered the victim with a crowbar, causing serious injury to his left hand.
Terrified, the man ran back to Tayyabs restaurant – regarded as one of the best Indian restaurants in London – only to find himself trapped in the doorway as the doors had been locked by frightened staff.
Taharak knifed the man a number of times before running off with the others to get more weapons.
As the victim attempted to get help, stumbling towards the Royal London Hospital nearby, his attackers returned with a larger group of men who leapt on him.
Rashel Hussain battered him with a hammer, while another man, Shah Alom, 22, slashed him with a glass bottle and two others, Jubhare Hussain and Shofiqul Islam, 21, rained down punches on the defenceless man leaving him with serious neck, arm and thigh injuries.