The Christmas that keeps on giving, with more Muslims sitting in jail. Next, deport them all to Gitmo, with nice orange jumpers waiting for them. KGS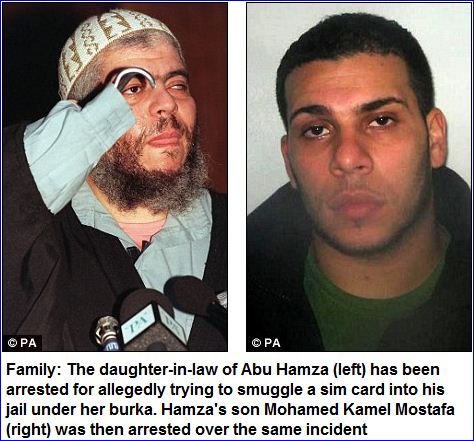 Abu Hamza's daughter-in-law arrested 'trying to smuggle sim card into Belmarsh Prison under her burka'
By DAILY MAIL REPORTER
The daughter-in-law of hate preacher Abu Hamza has been arrested for allegedly trying to smuggle a mobile phone sim card into his jail under her burka.
Chayme Hamza, 26, was apprehended by guards during a routine search when she went to visit the firebrand cleric in Belmarsh high security prison in south-east London last Friday.
Police were called and she was arrested on suspicion of bringing a prohibited article into a prison.
The sim card was found in a pocket in clothing under her burka, according to The Sun.
Hamza's eldest son Mohamed Kamel Mostafa – Chayme's husband and a convicted terrorist – was arrested over the same incident the next day.
The pair have been bailed until February pending further inquiries, Scotland Yard said.
The arrests have raised fears that Hamza has had access to a mobile phone while he awaits extradition to the U.S on terror charges.
The 52-year-old was jailed for seven years in February 2006 for inciting murder and race hate. He is challenging attempts to extradite him.
That case was delayed in July by the European Court of Human Rights in Strasbourg, which called for further submissions over the length of his sentence and the conditions he would experience if extradited to ADX Florence, a so-called "supermax' prison in Fremont County, Colorado.