How much you want to bet that the police would be already knocking on the doors of the EDL with arrest warrants if their organization had taken to do something similar during Ramadan? KGS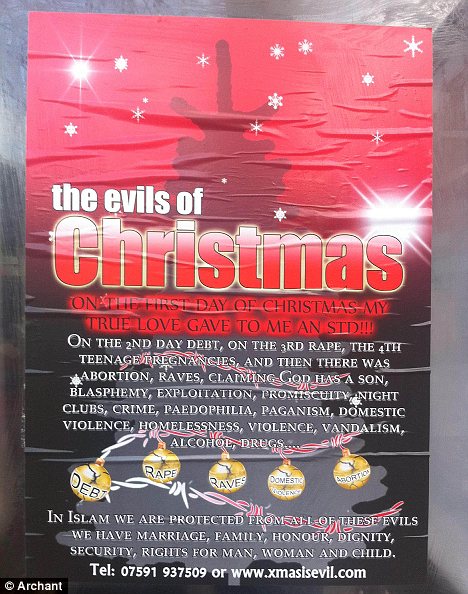 NOTE: What makes this attempt to offend Christians during this holiday so pathetic, is that their claims of what Islam supposedly is so ludicrous, that all I can say is: JOB WELL DONE! This band of pious Muslims should do this kind of thing more often, for every campaign they initiate, thousands of more fence sitters join the EDL.
'Christmas is evil': Muslim group launches poster campaign against festive period
By DAILY MAIL REPORTER
Fanatics from a banned Islamic hate group have launched a nationwide poster campaign denouncing Christmas as evil.
Organisers plan to put up thousands of placards around the UK claiming the season of goodwill is responsible for rape, teenage pregnancies, abortion, promiscuity, crime and paedophilia.
They hope the campaign will help 'destroy Christmas' in this country and lead to Britons converting to Islam instead.
Labour MP and anti racist campaigner Jim Fitzpatrick branded the posters 'extremely offensive' and demanded they were immediately ripped down.
The placards, which have already appeared in parts of London, feature an apparently festive scene with an image of the Star of Bethlehem over a Christmas tree.
But under a banner announcing 'the evils of Christmas' it features a message mocking the song the 12 Days of Christmas.