The Tundra Tabloids condemns acts such as these, the best remedy is to educate people as much as possible about the dangers of Islam, sharia and the jihad doctrine. Sending a pig's heads only makes martyrs of the Mussulmen. Right now it's being deemed by the Finnish police as an act of racism, when opposing Islam can never be an act of racism. KGS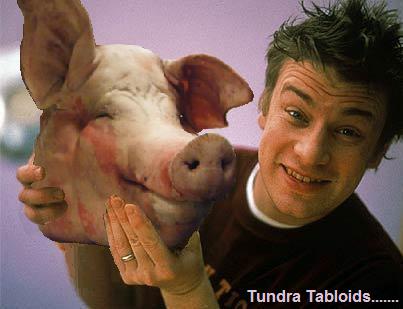 Chef Jamie Oliver: Don't look at me, I only deal in fresh
A Pig's head sent to Somali Alliance's office in Helsinki
Ilta-Sanomat: – A pigs head is an insult to our religion, "said the Somali Alliance president. A putrid pig's head was sent to the office of the Somali Alliance located in Roihuvuori, Helsinki today.
– The pig's head came by mail in a box from Tampere. At first we thought that the box had ads. Because of the smell, we didn't dare open it ourselves, so we asked the police to open the package, says the Somali Alliance President, Abdirashid Dirie.
The piece of mail was accompanied by a note that wished a Merry Christmas. The sender was marked as "free thinkers". The same racist group suspected of a breaking the Somali Alliance windows a week ago.
Last summer, the Alliance had gallons of oil poured into its mailbox, and the doors and windows had eggs thrown at it.
– This is the first time that the acts of vandalism had been against our religion. Senders know that we are Muslims and we do not eat pork, Abdirashid says.
According to him, still afternoon in the office smelled so bad that it was difficult to be there. Police are investigating the incident as a case of defamation. The incident was first told to (paper) Suomenmaa.
NOTE: Hopefully the Somalis don't reject Finland's first president on the same grounds.