Ah, it's Christmas time, that means listening to lectures from people who are economic illiterates.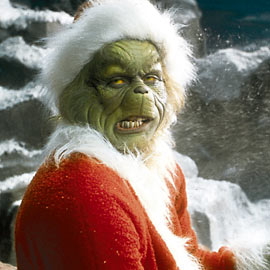 The Grinch: I'd be a great politician or
religious representative, I've never created wealth
Why does the Tundra Tabloids feel that when this Archbishop talks about the economic health of Finnish society, he's talking in coded Marxist lingo? Perhaps it's because he is. The Lutheran Archbishop, Kari Mäkinen, is a statist, just like the rest of Finland's political leadership and self anointed cultural elite.
Yes there are different kinds of socialism, but the end result is the same, that being, more power for the state and more tax revenue for the politicians, who will never, ever, say just how much of the tax payers' wealth is enough to fund their utopian society, and whose appetite for the wealth of others…. is insatiable.
Here's a way for the Archbishop to redeem himself the next time he feels the urge to talk about unemployment and economics in general. He can start by talking about the real greedy bastards in our society, that being, Leftist politicians and their lackey faux conservative colleagues and their fellow crony capitalists who don't believe in free market principles at all.
They believe that it's the state's business to create wealth and that they alone can allow it to flourish and to multiply, not the individual entrepreneurs of small or middle sized businesses. It's explains why they (these statists) view small business owners with such contempt, by placing unbearable burdens upon their necks, such as massive tax burdens, which at the end of the day discourages growth and increases unemployment.
The government's answer to unemployment is to increase spending and raise taxes (read=theft), and increase the number of public sector jobs, which by the way, are more likely than not, better paying than what their counterparts earn in the private market place.
Lets face facts, religious leaders are usually the last people who should be moralizing about wealth creation, seeing that they (usually) never create wealth themselves outside of Vatican investments in the stock market, and monks selling their own wine. KGS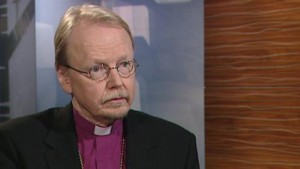 What the archbishop should be saying: Our politicians should end the nanny state, decrease taxes to all time lows, make it far more easy to start a business, drastically lower spending and make massive cuts in the bureaucracy. That's just for starters.
Archbishop Concerned Over Greater Inequality in Society
Archbishop Kari Mäkinen has expressed concern over a greater inequality existing in contemporary society. The head of Finland's Evangelical Lutheran Church was speaking on the YLE Ykkösaamu programme on Saturday. In his view, a function of the Church is to highlight flaws in society that affect peoples' lives.
However, he added it was the job of politicians to find solutions to problems in society.
Although the absolute level of poverty had decreased in recent years, it was getting worse for many.
"We have an ever growing number of people who have fallen from the way of life of society's majority and now find themselves estranged. They ask if they remain eligible to be a citizen," Archbishop Mäkinen added.
UPDATE: Case in point! Obama's "spiritual advisor, the "Reverend Wallis" preaching class warfare and Marxism in general as he trashes his own country. What a dufus bastard.
center>
"Every week I'm a Communist, a Marxist, a Socialist or a Nazi. It depends on the week".
NOTE: What an honest assessment of himself. As for the "drug of consumerism", the TT has this to say: "As for the materialism/consumerism that they dread, it alone has put food on the table for billions of people around the world, having raised their standards of living, far more than any international aid these religious Leftists are always moaning on about. The TT's advice is for them to shut up and be thankfull that they live in an age where capitalism is still allowed to work its magic." KGS